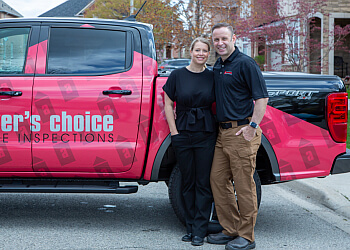 A Buyer's Choice Home Inspection stands as an accredited, adept, and unwavering inspection firm headquartered in Burlington. Their service spectrum encompasses a comprehensive array of home inspection services aimed at instilling confidence in your home purchase or sale. The team at A Buyer's Choice Home Inspections is comprehensively trained and deeply experienced across the entire gamut of home inspection facets. No matter the specific inspection services required, their qualifications are all-encompassing. They diligently scrutinize properties for subpar construction practices, identifying necessary repairs, general upkeep concerns, and matters of maintenance. In addition, they meticulously flag fire and safety issues requiring attention while offering you insight into the overall property condition. Their unbiased report functions as an invaluable source of information and enlightenment, enabling you to confidently and knowledgeably navigate property investments. Certified, accomplished, and steadfast, their inspectors are wholeheartedly dedicated to conducting exhaustive and all-encompassing inspections for your residential or commercial space.

UNIQUE FACTS:
• InterNACHI CPI Certification
• Cutting edge technology
• 90-day guarantee
• Monster free guarantee
• 24/7 availability.
Specialty:
Resale Home, Pre-Listing, Condo, Tarion Warranty, Allergens, Radon and Air Quality Tests, Thermal Imaging, Mould Surveys, Maintenance, Commercial, WETT and Renovation Inspections, Healthy Home Audit, Homeowner Consultations, Residential Property Assessments for Landlords & Environmental Services
$Price:
Up to: 1500sq.ft. - $350
Up to: 2500sq.ft. - $375
Up to: 3500sq.ft. - $400
Up to: 4500sq.ft. - $450
Up to: 5500sq.ft - $475

Contact:
Working Hours:
TBR® Inspection Report: