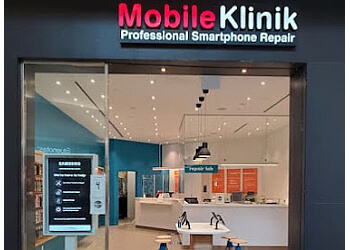 Mobile Klinik Kitchener is your go-to destination for all things related to mobile devices. With a deep passion for technology and an unwavering commitment to excellence, Mobile Klinik specializes in repairing smartphones and tablets. Renowned for its exceptional services and customer-centric approach, Mobile Klinik boasts a team of highly skilled technicians who excel in addressing a wide array of problems, ranging from repairing shattered screens and resolving water damage issues to replacing batteries and troubleshooting software glitches. Proficient technicians will repair your phone using high-quality components. Their dedication to transparency is evident throughout the repair process, as they provide clear explanations of the problems and the necessary solutions. Mobile Klinik provides Certified Pre-Owned Mobile Phones. Mobile Klinik transcends being merely a repair shop; it's a trusted partner dedicated to keeping you connected and ensuring your mobile devices consistently perform at their best. You can conveniently schedule their services via their website.

UNIQUE FACTS:
• Lifetime Warranty on all parts and labour
• Over 500 K Happy Customers
• Data Privacy Protection
• Free Diagnosis & Quote
• Lifetime Warranty
• 150+ Locations Across the Country
• Eco Friendly.
Specialty:
Virus and Malware Removal, Unlocking, and Diagnostic Services, iPhone, Samsung, Google, iPad, Tablet, Cell Phone, Cracked Screen, Sluggish Operating System, Dead Charging Port, Battery, and Screen Replacement, Speaker, Buttons, Liquid Damage, Bent Frame, Software Repair/Data Transfer, Laptop & Accessories
$Price:
Screen:
iPhone 13 Mini $319
iPhone 13 $299
iPhone 12 Pro Max $279
ZFOLD 4 $979
ZFLIP 4 $759
ZFOLD 3 $719
Pixel 7A $299
Pixel 7 Pro $399
Battery:
iPhone 13 Mini $99

iPhone 13 $99
iPhone 12 Pro Max $99
ZFOLD 4 $149
ZFLIP 4 $169
ZFOLD 3 $129
Pixel 7A $119
Pixel 7 Pro $279
Charge Port:
iPhone 13 Mini $159
iPhone 13 $159
iPhone 12 Pro Max $139
ZFOLD 4 $169
ZFLIP 4 $169
ZFOLD 3 $139
Pixel 4A 5G $119
Pixel 3 $99

Discount:
Contact:
Working Hours:
Mon-Fri: 10am - 9pm
Sat: 10am - 6pm
Sun: 10am - 5pm
TBR® Inspection Report: