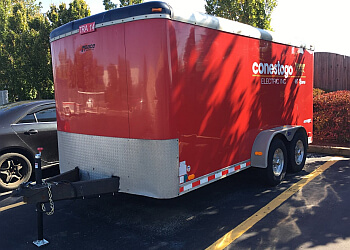 Conestogo Electric Inc. has established itself as the premier electrical service provider in Kitchener City since 1970. Their team possesses extensive knowledge in electrical maintenance and installation services, ensuring precise solutions for both commercial and residential clients. With a wealth of experience in navigating electrical complexities across residential, commercial, and industrial sectors, they have earned a solid reputation as industry leaders. Conestogo Electric Inc. excels in delivering outstanding electrical services, consistently achieving the highest levels of customer satisfaction. They are renowned for their exceptional quality in electrical projects and renovation services, handling everything from design to installation and maintenance of electrical fixtures. Their dedicated specialist team is known for its versatility, providing prompt and professional electrical services at competitive rates. Their offerings encompass house inspections, rewiring, and circuit diagnosis services.

UNIQUE FACTS:
• 50+ Years in Business
• 24 Hour Emergency Service
• Unparalleled Customer Service
• Free Quotes.
Specialty:
Residential and Commercial Services, Home Lighting, Ceiling Fan Installation, Exhaust, Specialty Devices, Ballast, Bulb and Fixture Replacement, Outdoor Kitchens, Installations, Running New Circuits & Service Upgrades

Serving Locations:
Waterloo, Cambridge, Elmira, Breslau, St. Jacobs, New Dundee and Hamburg, Wellesley, Baden, Maryhill, Puslinch, St. Agatha & Petersburg
Contact:
Working Hours:
TBR® Inspection Report: