Unison Digital Systems
Unison Digital Systems was founded in 1992, boasting a team of highly skilled and experienced technicians. Unison Digital Systems is one of the Three Best Rated® Computer Repair in Moncton, NB.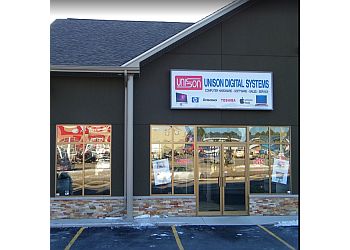 They offer both on-site and in-store repair options and strive to complete most repairs within the same day or overnight. Their offerings include competitively priced computer products and comprehensive support. Unison Digital Systems specializes in the repair of laptops, desktops, tablets, cell phones, and addresses both hardware and software issues. They possess the expertise to eliminate viruses and spyware from your system, conducting a thorough system cleanup, diagnosis, and repair with a fast and professional approach, all at competitive rates. Most of their repairs are completed on the same day or overnight, and they offer both on-site and in-store repair options. Rest assured, Unison Digital Systems executes each repair with a commitment to professionalism and efficiency.


Highly skilled professionals
Professional team.
Repair to any Brand Computers

Peripherals

Laptop

MAC OR PC

On-Site Repair

Computer Upgrades

Spyware removal

Networking Service

Troubleshooting

Virus / Spyware Removal

System Check

Estimate on Repairs

Refurbished Computers

Desktop

Accessories & Parts
To my delight, I found a decent sales and service, one stop computer store! Prices were very decent and the customer service fantastic! When I got my computer home it was super easy to setup. Just input the WiFi pass code, select which internet source, log into email and that's it! I feel very confident in this service provider to be my go to for all my computer needs! Definitely worthy of a 10+rating! Highly recommendable!
Fred and his staff are great to deal wiith. They only sell top quality products. No cheap knockoffs. I've been dealing with them over 25 years and have sent many friends their way, give them a try.
My husband and I have been buying our electronics from Unison for several years. The guys are knowledgeable, the prices are reasonable and they always go the extra mile to help. We wouldn't go anywhere else.
Mon, Tue & Thu: 9am - 5:30pm
Wed & Fri: 9am - 7pm
Sat & Sun: Closed
Nearby Computer Repair in Moncton: