Jeremy Jensen - JENSEN LAW
Jeremy Jensen stands as an esteemed criminal defence lawyer based in Kamloops. Jeremy Jensen - JENSEN LAW is one of the Three Best Rated® Criminal Defense Lawyers in Kamloops, BC.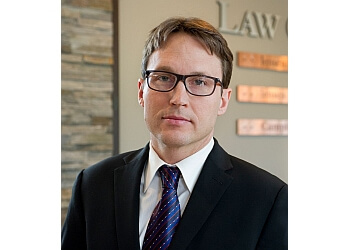 Over the course of his career, Jeremy has adeptly represented clients across various judicial tiers, including the British Columbia Court of Appeal and the Supreme Court of Canada. Jeremy's academic prowess is exemplified by his attainment of a Master's Degree in Law from the University of Canterbury. His dedication has been instrumental in furthering Jensen Law's established legacy of triumphs, consistently delivering exceptional legal counsel to his clients. His Master's thesis delved into the factors contributing to the overrepresentation of Aboriginal individuals in Canada and New Zealand's penal systems. Over the past decade, Jeremy has demonstrated unwavering commitment, extending unparalleled legal services across western Canada and the Northern regions. Jensen Law holds a prominent stature as a premier criminal defence firm, representing clients across the expanse of British Columbia. Comprising a nimble yet dynamic legal team, they specialize in trial proceedings and provide comprehensive representation throughout all stages of court proceedings, spanning British Columbia, Western Canada, and the Territories. The team's distinguished members boast a history of arguing cases before the British Columbia Court of Appeal and the Supreme Court of Canada. With a resolute commitment to affording clients complete and equitable protection against charges arising from quasi-criminal motor vehicle offences, Jensen Law navigates trials and offers representation across all phases of legal proceedings. To safeguard your rights, reach out to Jensen Law for consultation and legal support.


To Achieve the Best Possible Result for Everyone.
Fraud

Robbery

Domestic and Simple Assault

Shoplifting

Gun Charges

Murder

Homicide

Impaired Driving

Mischief

Additional Practice Areas:
Personal Injury

Impaired Driving Prohibitions

Record Suspensions

Administrative & Constitutional Law
Empathetic, thorough, and professional service - very pleased with the level of legal support that this firm offers. Definitely would recommend their legal services.
6+ years ago was a dark time in my life. I made some choices that would have had me spending a lengthy time in prison. Because of Mr Jensen and his legal staff I was able to continue living my life as a contributing member of society. I would recommend this law firm to anyone. Best lawyer In B.C hands down.
Thank you for a job well done. Your expertise has been very much appreciated.
Mon-Fri: 8:30am - 4:30pm
Sat & Sun: Closed
Nearby Criminal Defense Lawyers in Kamloops: