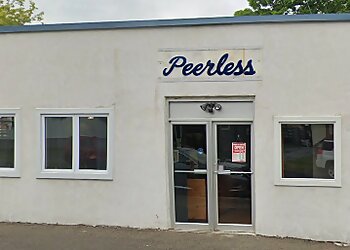 Peerless Cleaners Ltd operates as a family-owned and managed dry cleaning business. They are trained professionals personally oversee and maintain their operations, ensuring meticulous attention to detail. Each stain is meticulously examined, every pleat is thoughtfully arranged, and every crease is crisply perfected, all backed by their unwavering guarantee. Their area of expertise lies in bridal gown restoration services, where their trained professionals handle each piece with the utmost care, dedication, and respect. They take immense pride in the exceptional reputation they have cultivated for their cleaning standards and their unwavering commitment to customer-centric service. Their enduring mission remains steadfast: to offer top-notch garment cleaning services of the highest quality, all at an affordable price point. They invest time and effort into carefully assessing each customer's garments, providing expert recommendations for the most effective and budget-friendly cleaning or repair methods. The team at Peerless Cleaners comprises dry cleaning service virtuosos who cater to their customers' needs for dry cleaning, alterations, and repairs with unparalleled expertise and care.

UNIQUE FACTS:
• Environmentally-safe
• Quick service
• Excellent cleaning quality.
Specialty:
Shirt Laundry, Dry Cleaning, Shirt Laundry, Saree, Tie, Socks, Zipper Repair, Leather, Wedding Dress, Skirts, Stain Removal, Industrial Wear, Vests, Tailoring, Suede, Comforters, Coveralls, Pants, Household Items, Coats, Tablecloths Cleaning Services, Ties, Blankets & Suits
Contact:
Working Hours:
Mon-Fri: 7am - 5pm
Sat: 8am - 1pm
Sun: Closed
TBR® Inspection Report: