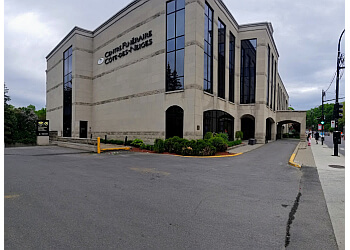 Centre Funéraire Côte-Des-Neiges Inc holds the distinction of being one of the largest funeral homes in North America, catering to the funeral and cremation needs of families with a strong commitment to serving Quebec's multicultural communities. Spanning an impressive 48,000 square feet, this spacious funeral home encompasses three levels, situated within the esteemed Mount Royal Natural and Historic District. Centred in Quebec, Centre funéraire Côte-des-Neiges stands as a pioneer of innovative and diverse funerals, offering the community a caring and expertly managed setting. Furthermore, they offer unique flower arrangements made from Legos. With their proficiency in ash scattering and a team that is both amiable and dedicated to meticulous attention, their service sets a standard of excellence. They have gone the extra mile to enhance the facility, incorporating features such as wood flooring, large TVs for picture and video slideshows, improved lighting, and even the addition of fireplaces to create a warm and inviting ambiance. To accommodate a variety of preferences and gatherings, the funeral home boasts two chapels and five reception rooms. Furthermore, with the convenience of 175 indoor parking spaces, they ensure that families and guests can gather comfortably during these difficult times. With their dedication to exceptional service and their focus on understanding and embracing the diverse needs of Quebec's multicultural families, Centre funéraire Côte-des-Neiges stands as a testament to their commitment to providing dignified and respectful funeral arrangements.

UNIQUE FACTS:
• A Funerary Chapel of Unparalleled Beauty
• Piano/Organ on Site
• Catholic Cemetery Section
• Multicultural funeral.
Specialty:
Events with Caterer, Premium Service, Large Capacity Reception Room, Event Planning, Arrangements by Phone or Email, Live Music Available, Popular Musical Selection, White Limos & Delivery of Flowers to the Cemetery
Contact:
Working Hours:
TBR® Inspection Report: