Royal City Health & Manual Therapy
Royal City Health and Manual Therapy Inc is a long-standing registered massage therapy clinic that has been providing top-tier massage therapy services to the New Westminster area since 1990. Royal City Health & Manual Therapy is one of the Three Best Rated® Massage Therapy in New Westminster, BC.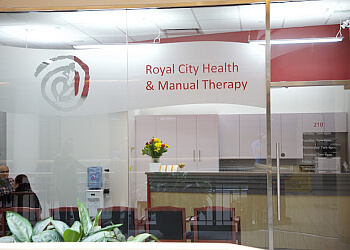 Their team of highly trained therapists is dedicated to assisting clients in enhancing their overall quality of life. They specialize in aiding individuals dealing with injuries to regain strength and function effectively. With deep roots in the community, they have earned an excellent reputation and fostered strong relationships with local physicians who rely on their expertise. Each member of their staff is exceptionally skilled and committed to helping clients enhance their overall quality of life by offering effective solutions for managing and alleviating long-term pain or mobility limitations. The clinic offers a range of massage therapy services, including neuromuscular and active release technique massage, as well as infant massage lessons for new parents.


Results-oriented Approach
Skilled And Experienced Therapists
Comfortable And Pain-free Life.
Active Release Technique

Temporomandibular Dysfunction Treatment

Craniosacral Massage

IASTM ( Instrument Assisted Soft Tissue Mobilization)

Visceral Massage

Deep Tissue Massage & Infant Massage Lessons
I have seen at least 40 different massage therapists in my lifetime...probably more ha! Anyway, I would like to say how impressed I am with treatment from Rebekah. She has a great flow, just the right amount of pressure, finds the issues in all areas of my body instantly and is the only massage therapist I would recommend to get a head massage from. It actually opens my sinus airways and relaxes my whole body. But most importantly she doesn't pull my hair!!!! Thought you'd like to know how well she is doing and how much I really appreciate her work. Thank you
This is a really nice spacious clinic. The receptionists are very friendly and the Intern Massage Therapist I visit is truly exceptional. She knows exactly what treatment to employ in order to alleviate pain and discomfort. Her treatment is better than most actual RMT treatments I have received at other clinics. This establishment has demonstrated that their primary concern is patient care, not profit, and I truly value and respect a business that takes this approach.
Mike Grewall has been my massage therapist for over 5 years now helping me recover through various training injuries and my random pulls and knots from everyday life. He provides great results which always me to get back into my daily routine faster than expected. I have referred multiple people to the Royal City Health and Manual Therapy and have continued to use their services even though I now have a 30-minute commute for treatments.
Mon-Fri: 7am - 7:30pm
Sat & Sun: 8am - 4pm
Nearby Massage Therapy in New Westminster: