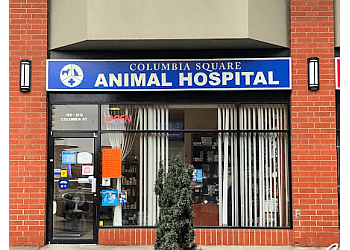 Columbia Square Animal Hospital, a family-owned veterinary facility, offers specialized and general care for your beloved pets. Their team is composed of compassionate individuals eager to provide excellent treatment for your furry family members. They take pride in their commitment to staying at the forefront of veterinary medicine to ensure your pet receives the best possible care. The hospital provides vaccinations to safeguard your cherished pet against serious infectious diseases and bacteria. Their vaccination approach considers factors such as your pet's breed, age, lifestyle, and expert recommendations. They are equipped with state-of-the-art digital X-ray technology on-site, ensuring precise, clear, and high-quality radiographs. Additionally, they maintain a comprehensive in-house laboratory to conduct urgent blood work, whether it's an emergency situation or a pre-surgical requirement. Columbia Square Animal Hospital offers a wide range of veterinary medical services for dogs and cats in New Westminster and surrounding areas. They also provide emergency services during regular business hours.

UNIQUE FACTS:
• Online Store
• Emergency Care
• Welcome New Clients
• In-House Laboratory Facility
• Offer Prescription Medications.
Specialty:
Wellness Exams, Vaccinations, Radiology, Vaccine and Titre Test, Dentistry, Digital X-Ray, Diagnostic and Lab Procedures, Surgery, Anesthesia, Orthopedic Surgery, Hospitalization, Ultrasound, Emergency Services, Anesthetic Protocols, Senior Pet Care, Parasite Control & Pharmacy
Insurance Accepted:
PetSecure, Trupanion & PetsPlusUs
Contact:
Working Hours:
Mon-Fri: 8am - 7pm
Sat: 8am - 6pm
Sun: 8am - 3pm
TBR® Inspection Report: