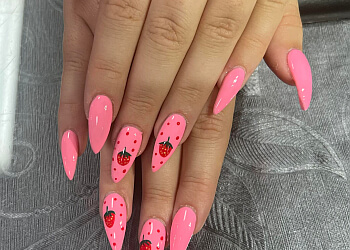 Superior Nails stands as a premier destination for impeccable nail care, delivering unparalleled services that epitomize excellence. With an illustrious career spanning over 15 years, Sanh Le is a seasoned expert in the art of manicures and pedicures. His credentials shine with a Nail Technician certification bestowed by Hippie Nails, underscoring his dedication to mastery in his craft. Sanh Le's commitment to his work is palpable, evident in his meticulous approach that ensures each client departs with a smile of satisfaction. His passion resonates in every nail he tends to, transforming each hand and foot into a canvas of beauty and artistry. In the capable hands of Sanh and his team, a vivid spectrum of the latest nail colors and captivating design sets awaits. The salon is a sanctuary where exceptional polish services unfold in an atmosphere infused with both vibrancy and tranquility. Remaining at the forefront of industry advancements is a hallmark of Superior Nails. Their unwavering dedication to embracing the latest technology and trends reflects their forward-looking approach and commitment to innovation. The essence of Superior Nails goes beyond the superficial; it's about personalized attention and timely service. Their promise extends beyond exceptional outcomes to encompass a seamless and satisfying journey. The foundations of their artistry are underpinned by a palette of high-quality brands. OPI, China Glaze, DND Daisy Duo Gel, CACEE, and Kaira Sky form the tapestry of excellence that envelops every nail transformation, ensuring both beauty and durability. Superior Nails isn't just a salon; it's a testament to the fusion of skill, innovation, and passion.

UNIQUE FACTS:
• Diverse Nail Colors and Design Sets
• Technological Advancements
• High-Quality Product Selection
• Fun and Relaxing Environment
• Personalized Client Satisfaction.
Specialty:
UV Powder, Liquid Gel, Bio-Gel, Gel Colour Tipand Acrylic Full Set/Refill, Manicure with Regular Polish, Shellac Colour and Shellac French Tip, Gentleman's Manicure, Deluxe, Gentleman's and Kids Pedicure with Colour, Long Nails, Color Change Hands/Feet, Nail Design, Removal & Repair
$Price:
Nails-Hand:
UV Powder Gel Full Set* $55
UV Powder Gel Refill $50
BIO Gel Full Set* $65
BIO Gel Refill $55
Liquid Gel Full Set* $65
Liquid Gel Refill $55
Acrylic Full Set* $50
Acrylic Refill $40
Gel Colour Tip Full Set* $60
Gel Colour Tip Refill $40

Manicure with Regular Polish $37
Manicure with Shellac Colour $40
Manicure with Shellac French Tip $45
Kids Manicure with Regular Polish $25
Gentleman's Manicure $30
Long Nails- Full Set- Additional $5 & up
Combos:
Manicure & Pedicure $70
Manicure & Pedicure with Shellac Colour $80
Manicure & Pedicure with Shellac Tip $95
Gentleman's Manicure & Pedicure $55
Kid's Manicure & Pedicure $50
Footcare:
Spa Pedicure $45
Spa Pedicure & Acrylic $65
Spa Pedicure & Shellac $55
Kids Pedicure with Colour $40
Deluxe Pedicure $50
Gentleman's Pedicure $40

Contact:
Working Hours:
Mon & Tue: 9am - 6:30pm
Wed-Fri: 9am - 8pm
Sat: 9am - 4pm
Sun: Closed
TBR® Inspection Report: