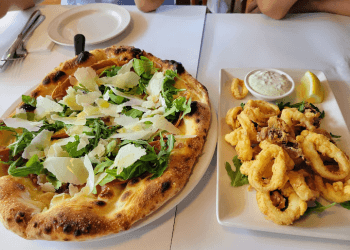 Il Fornello is a well-known authentic pizzeria in Oakville. This eatery specializes in Neapolitan-style pizza and pasta, all served within a contemporary, well-lit environment that includes an outdoor patio space. Their core identity revolves around inclusivity and affordability, fostering an environment where individuals from all walks of life feel welcome and at ease. While they maintain a strong commitment to adhering to authentic Italian cuisine principles, they also deeply regard their patrons' preferences. Thus, they readily accommodate special requests whenever possible. From delectable pasta featuring their own crafted sauces to their award-winning wood-fired pizzas, appetizers, and salads, Il Fornello offers an extensive array of choices, catering to various dietary needs. Their menu showcases a diverse selection, encompassing plant-based and gluten-free alternatives, ensuring a satisfying experience for a wide range of culinary preferences.

UNIQUE FACTS:
• Dine-in
• Takes reservations
• Accepts debit cards and apple pay
• Outdoor seating
• Private lot parking
• Wi-fi
• Full bar
• Tv available
• Bike parking.
Specialty:
MENU: PIZZA: Prosciutto, Margherita, Diavola, Capricciosa, Funghi, Pepperoni, Varese, Hawaiiano, Fichi, Pollo Pesto, Salsiccia Italiana, Con Salami E Gorgonzola, Rapini and Burrata, Secondo: Salmone Scottato, Pollo Con Asiago, Vitello Picata, Bistecca Alla Griglia, Pasta: Linguine Di Mare, Orecchiette Rapini E Salsiccia, Penne Capri, Rigatoni Bolognese, Penne Pesto, Risotto Capesante, Penne Alla Vodka, linguine Alle Vongole, ANTIPASTI: Olive E Taralli, Arancini, Cozze Con Pomodoro, Calamari Fritti, Polpette Al Pomodoro, Calamari E Gamberetti Alla Griglia, Soup, Salads & Entrees
$Price:
PIZZAS:
Prosciutto - $22.50
Margherita - $15.95
Diavola - $19.50
Capricciosa - $19.50
Funghi - $20.50
Pepperoni - $16.50
Varese - $19.25
Hawaiiano- $18.75
Fichi - $23.50
Pollo Pesto - $20.95

Salsiccia Italiana - $19.95

Contact:
Working Hours:
Tue-Thu & Sun: 12pm - 9pm
Thu-Sat: 12pm - 9:30pm
Mon: Closed
TBR® Inspection Report: