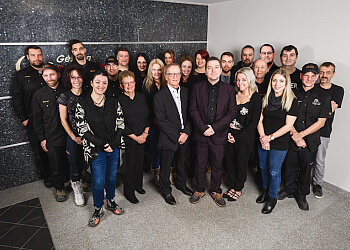 Gestion Immobilière Harvey's Inc stands out as a premier property management enterprise located in Saguenay, QC. With a rich history spanning more than 35 years within the property management realm, this company excels in the effective administration of real estate enterprises, and commercial and industrial edifices, as well as office and project oversight since 1994. Central to their philosophy is the profound belief in the vital role played by their workforce in realizing their mission. Their dedication to maintaining immaculate and secure buildings enhances their esteemed standing for diligence and benevolence. Each day, their staff contributes to their triumph through their unwavering passion, steadfast commitment, and adept expertise, delivering courteous and efficient customer service. Their unwavering commitment revolves around furnishing dependable property management solutions to their valued clientele.

UNIQUE FACTS:
• 22 buildings under management
• 98 commercial and industrial tenants
• 530,000 ft 2 in management
• Cutting-edge technology
• Detailed reports.
Specialty:
Delivery of Rented Units to New Tenants, Receipt and Follow-Up of Requests and Complaints, Service Call Processing, Realization of Rental Developments, Preparation and Signing of Leases, Visit of Vacant Premises, Accounting, Negotiation and Finalization of Agreements, Customized Needs Analysis, Active Search of Prospects, Maintenance & Collect Rents
Contact:
Working Hours:
Mon-Fri: 8am - 5pm
Sat & Sun: Closed
TBR® Inspection Report: