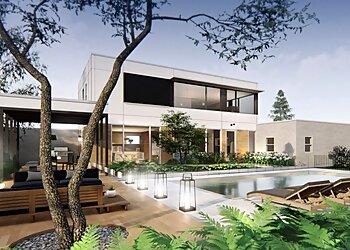 Pôle architecture emerged as a collaborative effort to harness the collective strength within the Lac Saint-Jean and Saguenay regions. Encompassing imaginative architects, the firm draws on a wealth of diverse experiences, positioning itself as a beacon for the forthcoming generation while enjoying invaluable mentorship. Pôle architecture is a product of professionals hailing from varying backgrounds, enriched by their substantial involvement in architecture-related realms both within Quebec and internationally. This dynamic amalgamation results in a robust team equipped to navigate a wide array of challenges. The core ambition of Pôle architecture is to create innovative and health-conscious spaces of exceptional caliber. Guided by transparent and articulate communication, the designers ensure the project's essence is comprehensible to all stakeholders. Prioritizing the fusion of client desires with contextual nuances, each project bears the distinct hallmark of Pôle architecture.

UNIQUE FACTS:
• The Client's Will and The Context Are Prioritized, Giving the Project Its Own Signature.
• Atmosphere Conducive to Creativity
• Experience Team.
Specialty:
Residential, Industrial, Commercial & Institutional
Contact:
Working Hours:
Mon-Thu: 8:30am - 4:30pm
Fri: 8:30am - 12pm
Sat & Sun: Closed
TBR® Inspection Report: