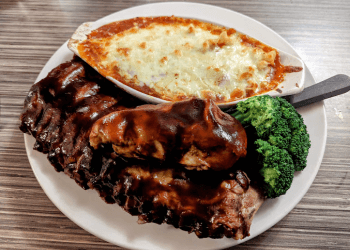 Venetis Restaurant is a Classic no-frills fixture offering a variety of cuts plus meat, seafood & pasta dishes & salad bar. Operated by a devoted family, this restaurant specializes in presenting an assortment of meat, seafood, and pasta creations. Among its standout offerings, the restaurant has built a reputation for its renowned Steak and Prime Rib selections, which have garnered appreciation over its 39-year tenure of serving Langley and neighbouring communities. At the forefront of their culinary journey are an array of tantalizing appetizers, including the Fantail Prawn Starter, Scallops + Bacon Appy, Calamari Appy, Rib Starter, Chicken Strips Appy, Shrimp Cocktail, and Cheese Bread. Notably, all their sauces are crafted in-house, free from additives or preservatives, contributing to the exceptional flavours that grace each dish. Venetis Restaurant remains steadfast as a culinary institution, delivering a straightforward yet immensely satisfying dining experience. Their commitment to quality and a rich history of serving their community render Venetis Restaurant an inviting and cherished destination for those seeking classic flavours and heartwarming hospitality.

UNIQUE FACTS:
• Wi-fi
• Full bar
• Tv available
• Bike parking
• Dine-in
• Takes reservations
• Accepts debit cards.
Specialty:
MUST TRY DISHES: APPETIZERS: Shrimp Cocktail, Escargots, Zucchini Sticks, Chicken Strips, Scallops + Bacon, Cheese Bread, SOUP + SALADS: French Onion Soup, Caesar Salad, Mediterranean Caesar Salad, Hot Chicken Caesar, Pacific Shrimp Salad, Pastas: Baked Lasagna, Baked Spaghetti, Spaghetti, Seafood and Chicken Fettuccini, SOUVLAKI: Chicken Souvlaki, Beef Souvlaki, Prawn Souvlaki, house specialties: chicken + rib combo, bbq baby back ribs, pepper steak sautee, teriyaki pepper steak, peppercorn steak, steak oscar, steak teriyaki, VEAL: schnitzel champignon, veal oscar, wiener schnitzel, surf + turf: prime rib + tiger prawns, steak + fantail prawns, steak + tiger prawns, CHILDREN'S MENU: chicken strip dinner, baked lasagna, fish + chips & baked
$Price:
Seafood Starts from $23.95
Appetizers Starts from $11.50
Salads Starts from $13.18
Pastas Starts from $18.69
House Specialties Starts from $25.25
Side Orders Starts from $5.70

Contact:
Working Hours:
Tue-Thu & Sun: 4pm - 8pm
Fri & Sat: 4pm - 9pm
Mon: Closed
TBR® Inspection Report: