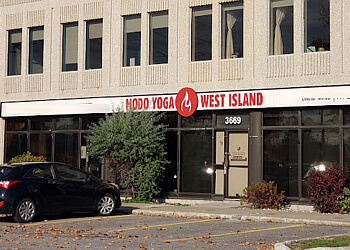 Modo Yoga West Island is a tight-knit community of enthusiastic students who share a deep passion for yoga, a strong dedication to environmental conservation, and a shared mission to promote greater peace in the world. The studio is under the ownership of Lana Armstrong, a longtime member of the Modo Yoga family in Montreal since 2005. Lana is a co-owner of Modo Yoga NDG and affectionately referred to as the "mama" at the West Island studio. At Modo Yoga West Island, they offer yoga classes that are accessible, invigorating, and enjoyable, catering to various skill levels. In addition to their commitment to yoga, they provide the convenience of free off-street parking for their students.

UNIQUE FACTS:
• Over 70 Studios Worldwide
• Offer Accessible Classes
• Free Off-Street Parking.
Specialty:
Yang-Yin Hot, Hot Yin, Hot Yin Tonic, Meditation, Moksha, Moksha Flow, Power Flow, Community Class, Karma Class, Moksha Pre-Natal, Kids Yoga & Savasana
$Price:
Intro Special 3 Weeks Unlimited: $49
Single Class: $25
3 Class Card: $66
8 Class Card: $160
15 Class Card: $270
1 Week Unlimited Yoga: $45
1 Month Unlimited: $150
4 Months Unlimited: $550

Contact:
Working Hours:
TBR® Inspection Report: