Candyland Indoor Play Centre
Candyland Indoor Play Centre presents an expansive 13,000-square feet of joy-infused indoor play space designed for children aged 1 to 12. Candyland Indoor Play Centre is one of the Three Best Rated® Amusement Parks in Vaughan, ON.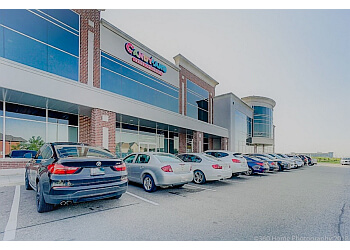 Within its vibrant confines, a plethora of game areas, wall climbing facilities, and a designated toddler zone await, catering to the needs of youngsters of all ages. The center takes pride in its amiable staff, known for their friendly and accommodating approach towards customers. Notably, Candyland Indoor Play Centre offers complimentary adult admission with each child's entry, contributing to an inclusive and family-friendly atmosphere. The facility stands out for its commitment to maintaining a clean and secure environment, ensuring peace of mind for all visitors. Serving as an exceptional haven for both children and parents, Candyland provides an ideal setting for bonding and play. Their foremost priority lies in fostering the safest and most pristine setting possible for children to explore and have fun. Within the premises, children are treated to a multitude of attractions, including a towering 20-foot play structure adorned with a Candy theme, a captivating ball shower, an engaging eye-click interactive floor game, exhilarating three-wave slides, a super hook slide, a creatively designed jellybean-themed obstacle room, and an opportunity for wall climbing adventures. Candyland Indoor Play Centre also extends its embrace to celebrating kids' birthdays, inviting parents to partake in the festivities.


Indoor Play Destination
Interactive Play Structures
Birthday Party Venue.
Jellybean Themed Obstacle Room

Chocolate River-Themed Trolley Glide

3 Wave Slides

Super Hook Slide

The Eye Click Interactive Floor Game

Exciting Ball Shower

Game Areas

Wall Climbing & Toddler's Area for Little Kids
Candyland Indoor Play Center is a great place for kids to burn off some energy in a safe and fun environment. The center offers a variety of play structures and activities, including a bounce house, slides, and ball pits. The staff is friendly and attentive, and the facility is clean and well-maintained. Parents can relax in the comfortable seating area while their children play. Prices are reasonable, and party packages are available. Highly recommended for a fun-filled day of play!
Great price for the littles to play! Such a nice play centre with endless fun. Very clean and open set up. We are from Oshawa and are willing to travel to Vaughn just to go to this play centre :)
We've been here quite a few times and the kids love it . Toys are safe amd the centre always clean My 6 year old had her birthday here and it was enjoyable
Candyland Packages: Mon – Thu : $1189 + Hst Frid : $1,489 + Hst Sat, Sun, Holidays & Pa Days : $1889 + Hst
Mon-Thu: 10:30am - 7pm
Fri: 10:30am - 8pm
Sat & Sun: 10am - 8pm

Nearby Amusement Parks in Vaughan: