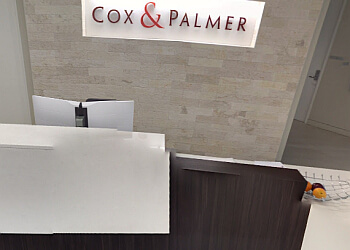 Cox & Palmer is a big law firm that offers all kinds of legal help across Atlantic Canada. They give advice to regular people and businesses in lots of different fields, including all the big industries. They come up with legal solutions by really understanding what their clients need and doing top-notch work. They have 200 lawyers who, together, have more than a hundred years of experience. These lawyers are really good at dealing with issues related to restructuring and insolvency law. They have a team that works together to give practical and clever legal advice on things like deals, financial stuff, and following the rules. They also give reliable advice on money matters, using their knowledge and experience in different industries. If there are arguments or problems that come up because of money deals, Cox & Palmer can represent lenders or borrowers to sort things out. Cox & Palmer is especially good at banking and finance law, and they help clients who are involved in Canada and around the world.

UNIQUE FACTS:
• They Have Offices in Alberton, Charlottetown, Fredericton, Halifax, Moncton, Montague, Morell, Saint John, St.Johns and Summerside
• Cox & Palmer Is a Member of Law Firm Diversity and Inclusion Network.
Specialty:
Insolvency, Restructuring, Bankruptcy, Workouts, Guarantees Receivership, Realizations, Foreclosures, Security Assessment and Realization, Priority of Claims, Corporate and Commercial Law, Negotiating Complex Commercial Agreements, Secured Transactions, Commercial Litigation, Mergers & Acquisitions

ADDITIONAL PRACTISE AREAS:
Business Services, Administrative, Private Client Services, Industries, Litigation & Dispute Resolution
Contact:
Working Hours:
Mon-Fri: 8:30am - 5:30pm
Sat & Sun: Closed
TBR® Inspection Report: