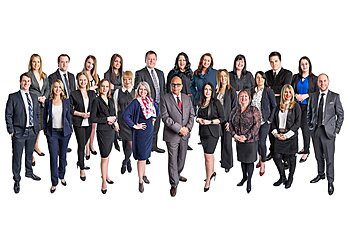 Gittens & Associates stands as a comprehensive law firm situated in St. John's, NL. A team of seasoned and skilled lawyers within their ranks offers legal counsel and representation across diverse practice domains, encompassing divorce, custody arrangements, personal injury, real estate law, employment, and labor concerns. The adept immigration lawyers in Newfoundland within their team are wholly devoted to assisting you with your immigration needs, aiming to turn your immigration journey into a positive endeavor rather than a source of frustration or disappointment. Their commitment to excellence permeates all their endeavors, ensuring they provide you with the individualized attention you merit. Guided by empathy, their lawyers adeptly navigate intricate legal matters, fostering a clearer understanding of your rights. They remain dedicated to guiding you throughout the legal process while ardently advocating for your interests.

UNIQUE FACTS:
• Dedicated Team at Your Service
• Free Initial Phone Consultations.
Specialty:
Work and Visitor Permits, Study and Temporary Residence Permits, Work Permit Renewals or Extensions, Labour Market Impact Assessments, Express Entry Program, Provincial Nominees Programs, Atlantic Immigration Pilot Program, Canadian Experience Class, Skilled Workers and Professionals Investors & Entrepreneurs and Self-Employed Individuals

ADDITIONAL PRACTICE AREAS:
Family Law, Personal Injury, Employment and Labour, Wills and Estates, Criminal Law, Real Estate, Business Law, Administrative Law & Taxation Law
Contact:
Working Hours:
Mon-Fri: 8:30am - 5:30pm
Sat & Sun: Closed
TBR® Inspection Report: