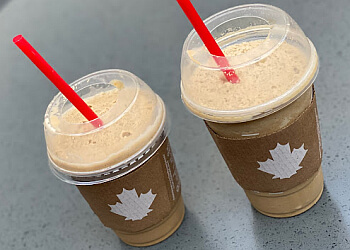 Tim Hortons stands as the foremost café destination in Surrey. Recognized as the Canadian chain renowned for its signature premium-blend coffee, along with a selection of light bites, pastries, and breakfast sandwiches, Tim Hortons is the ultimate go-to spot for freshly brewed coffee. Their coffee is meticulously crafted using 100% Arabica beans sourced from the most esteemed growing regions worldwide. In addition to their exceptional coffee, they present an array of specialty beverages, encompassing lattes, cappuccinos, espresso, iced and frozen coffee, hot chocolate, tea, and natural fruit Quenchers. Whether you're in need of a quick snack or a satisfying meal for breakfast, lunch, or dinner, Tim Hortons has you covered. Don't miss the opportunity to relish their freshly cracked Canadian eggs available until 4 pm. Indulge your palate with an assortment of delectable baked goods such as cookies, muffins, Timbits, and donuts, including their irresistible Dream Donuts. Complementing their offerings is a selection of soups, including Chicken Noodle, Cream of Broccoli, and Chili, all perfectly paired with their potato wedges made from Canadian potatoes.

UNIQUE FACTS:
• Dine-in
• Take Away
• Online Order Delivery
• Vegan Options
• Accessible WiFi Facilities..
Specialty:
HOT BEVERAGES: Caramel Toffee Latte, Brewed Coffee, Dark Roast Brewed Coffee, Steeped Tea, Specialty Tea, French Vanilla, Hot Chocolate, COLD BEVERAGES: Iced Coffee and Blackberry Yuzu Sparkling Quencher, BAGELS: Plain, Everything, 12 Grain, Four Cheese, Cinnamon Raisin, Jalapeno Asiago Mozzarella, 6 Assorted & Bulk Cream Cheese
$Price:
MENU:
Brewed Coffee Starts from $2.30
Hot Beverages Starts from $2.30
Cold Beverages Starts from $2.79
Bagels Starts from $2.39

Contact:
Working Hours:
Sat-Wed: 7am - 8pm
Thu & Fri: 7am - 9pm
TBR® Inspection Report: