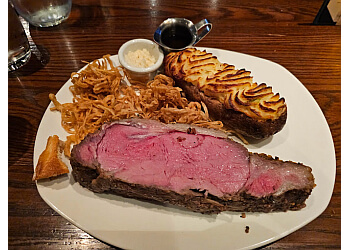 The Keg Steakhouse + Bar in Surrey is a renowned steak restaurant chain in Surrey. With a sense of pride, this establishment serves top-tier steaks, exquisite seafood, delightful appetizers, crunchy salads, and indulgent desserts. Offering an ideal environment to socialize and relish the company of others, The Keg Steakhouse is a perfect setting. For younger patrons, the restaurant presents a chance to savour their celebrated chicken strips, cheesy noodles, miniature keg burgers, and Caesar salad. The dinner menu encompasses an array of options, including appetizers, salads, burgers, combinations of steak and prime rib, steak and seafood choices, classic Keg offerings, as well as chicken and ribs dishes. Moreover, The Keg Steakhouse provides the convenience of gift cards and extends various amenities such as takeout services, happy hour specials, outdoor seating, and complimentary WiFi access.

UNIQUE FACTS:
• Dine-In
• Kerbside Pickup
• Classic Steak & Seafood Dishes
• Casual Chain Restaurant.
Specialty:
MUST TRY DISHES: Prime Rib, Teriyaki Sirloin, Filet Mignon, Top Sirloin, Baseball Top Sirloin, New York Striploin, Baked Potato, Blackened Chicken, Keg Burger, Vegan Meatloaf, BBQ Pork Ribs, Chicken & BBQ Pork Ribs
$Price:
Appetizer Starts from $19
Entrées Starts from $54
Cocktails Starts from $10
Salads + Soups Starts from $13
Keg Steaks + Prime Rib Starts from $37
Keg Classics Starts from $43
Wine Menu Starts from $8.5

Contact:
Working Hours:
Mon-Thu & Sun: 4pm - 10pm
Fri & Sat: 4pm - 11pm

TBR® Inspection Report: