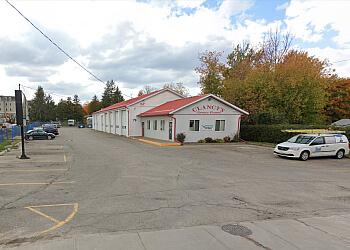 Clancy's Service Centre is a family-owned and operated business renowned for its steadfast commitment to delivering dependable auto repair and maintenance services at highly competitive prices. Their unwavering dedication to providing exceptional client support has not only earned them a loyal customer base but also garnered numerous referrals. With a rich history spanning over 25 years, their facility has been a trusted provider of reliable automotive repair and maintenance services, consistently offering cost-effective solutions to their valued clientele. Their team of skilled technicians is well-versed in servicing vehicles of all makes and models, demonstrating their versatility and ability to cater to a wide range of automotive needs. To ensure the quality and reliability of their repairs, Clancy's Service Centre exclusively installs parts that meet or exceed OEM specifications, underscoring their commitment to delivering top-notch products at affordable prices. Their team of highly trained professionals is dedicated to delivering the highest standard of service, providing customers with the assurance that their vehicles are in capable and experienced hands. Moreover, Clancy's Service Centre places a strong emphasis on treating all customers with respect, fairness, and unwavering honesty, creating an environment of trust and transparency. As an additional testament to the quality of their work, they offer a nationwide warranty, reinforcing their commitment to the longevity and durability of their services. With Clancy's Service Centre, you can expect not only reliable auto care but also a genuine dedication to customer satisfaction and a commitment to excellence that has been their hallmark for more than two decades.

UNIQUE FACTS:
• Courtesy Shuttle
• Free Wi-Fi in The Waiting Room
• $15 Off First Time Visit
• Seasonal Maintenance Inspection
• $10 Off Fluid Flushes.
Specialty:
Steering, Shocks, Struts, and Suspension, Radiator and Cooling System, Fuel System and Fuel Injection, Gas Tanks, Exhausts and Mufflers, Batteries, Alternators, Starters, Electrical, Lube, Oil, and Filters, Transmission System, Heating & Air-Conditioning System

Serving Locations:
Bethany, Bobcaygeon, Bolsover, Bowmanville, Cambray, Cameron, Coboconk, Fenelon Falls, Janetville, Kirkfield, Lindsay, Norland, Oakwood, Peterborough, Pontypool & Woodville
Contact:
Working Hours:
Mon-Wed & Fri: 8am - 5:30pm
Thu: 8am - 8pm
Sat & Sun: Closed
TBR® Inspection Report: