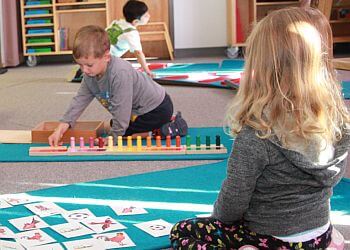 Lindsay Montessori Preschool is the premier preschool institution in Kawartha Lakes, with an illustrious history of over forty-five years of service to the local community. Their overarching objective is to provide a platform encompassing people, programs, and resources that ignite a lifelong passion for learning in children with diverse learning styles. Catering to children aged 0 to 6 years, this preschool's curriculum is designed to stimulate young minds and genuinely challenge them. The instructors comprise highly trained and experienced professionals well-versed in early education programs. They foster an environment where students are encouraged to take knowledge acquired in one area and apply it in others, promoting holistic learning. Within the Playroom, ample space facilitates valuable open-ended free play, enabling children to learn and explore independently. The core belief at Lindsay Montessori Preschool is that Early Childhood Educators play a pivotal role in offering a stimulating environment where children can freely express their creativity, curiosity, and adventurous spirit. The program is meticulously crafted to equip children with the essential concepts for a solid foundation before entering grade one.

UNIQUE FACTS:
• Week New Materials
• Physical Aspects of Learning
• Five General Skills
• Lifelong Love of Learning
• Nurturing Community
• Respecting the Whole Child.
Specialty:
LEARNING: Practical Life Skills, Sensorial, Language, Mathematics, Geography and Science, Art Experiences, Dancing and Singing, Dramatic Play and Dress-up, Gross Motor and Active Play, Sensory Play, Science Activities, Circles & Storytelling
$Price:
TUITION RATES ARE MONTHLY
5 Day:
Morning 8:30 am To 11:30 am - $440
Afternoon 1:00 pm To 3:30 pm - $400
Full Day 8:30 am To 3:30 pm - $920
Alternate Day:
Full Day 8:30 am To 3:30 pm - $515
3 Day:
Morning 8:30 am To 11:30 am - $315
Afternoon 1:00 pm To 3:30 pm - $290
2 Day:

Morning 8:30 am To 11:30 am - $280
Afternoon 1:00 pm To 3:30 pm - $250

Contact:
Working Hours:
Mon-Fri: 8am - 4pm
Sat & Sun: Closed
TBR® Inspection Report: