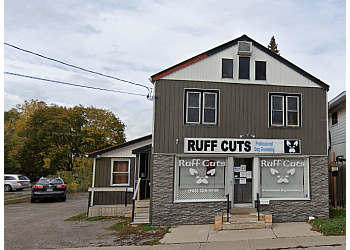 Ruff Cuts Professional Grooming is deeply committed to ensuring your pet's comfort and sense of belonging while under their care. Their primary goal is to create an environment where your pet not only feels at ease but also enjoys their time, eagerly looking forward to future visits. With a specialization in top-notch professional grooming, they prioritize dedicating the necessary time to provide the best grooming experience possible. Their team of groomers boasts comprehensive training, allowing them to cater to a wide spectrum of grooming needs. Whether you seek a straightforward, short haircut or an intricate, elaborate style, their groomers possess the qualifications to meet your desires. A tranquil and serene atmosphere is thoughtfully maintained, minimizing stress for your pet. They go the extra mile by providing ample crate-free time for most dogs, fostering a calm and relaxed environment. Notably, they offer a specialized De-matting service, employing unique tools to eliminate unwanted mats, ensuring your pet's coat remains in optimal condition. For those considering their services, a free consultation is on offer, further emphasizing their dedication to transparency and customer satisfaction.

UNIQUE FACTS:
• High Quality Professional Grooms
• Satisfaction Guaranteed.
• Self-Serve Dog Wash Available.
Specialty:
Hair Removal Between Pads, Shampoo, Bow or Bandana, Ear Cleaning, Thorough Brushing And De-Shed, Complete Fluff Drying, Mani and Pawdicure, Face Trim, Elaborate Style, Flea Baths, Hair Cut and Styling, Top Knots with Bows, Short Haircut or a Fancy, Nail Polish, Self-Serve Dog Wash & De-Matting
Contact:
Working Hours:
Mon-Sat: 8am - 5pm
Sun: Closed

TBR® Inspection Report: