Dr. Asad Hasan - NORTH HARWOOD FAMILY DENTISTRY
Dr. Asad Hasan - NORTH HARWOOD FAMILY DENTISTRY is one of the Three Best Rated® Dentists in Ajax, ON.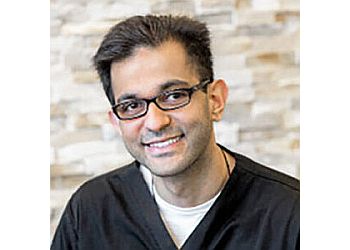 Dr. Asad Hasan is Ajax's lead and highly skilled dentist, having completed his undergraduate studies at the University of Western Ontario. He maintains active membership in excellent standing with the Royal College of Dental Surgeons of Ontario (RCDSO), the Ontario Dental Association (ODA), and the Academy of General Dentistry (AGD). Dr. Asad emphasizes patient education, ensuring that every intricate aspect of their treatments is explained comprehensively and clearly. As a general dentist at North Harwood Family Dentistry, he works alongside a dental team that remains well-versed in the latest techniques and cutting-edge technologies, enabling them to perform procedures swiftly and precisely. Their range of services extends from routine dental checkups and thorough teeth cleanings to advanced cosmetic dental procedures like dental implants and dental veneers. Furthermore, they offer flexible appointment hours and exceptional customer service. Their commitment to excellence in dental care is matched only by their dedication to providing outstanding customer service, where patient education is a top priority, and each patient receives a customized experience tailored to their unique needs.


Accepts New Patients
Offers Free Teeth Whitening and Sports Guards for New Patients.
CONDITIONS:
Sleep Apnea Treatment

TMJ Therapy and Child Dental Care

PROCEDURES:
Sports Guards

Invisalign

Cosmetic Dentistry

Family Dentistry

General Dentistry

Routine Cleaning and Checkup

Orthodontics

Periodontics

Composite Fillings

Bonding

Bridges

Crowns

Extractions

Implants

Dentures

Root Canal & Teeth Cleanings
I had a wonderful experience at this clinic. All staff members are helpful, responsive, and cheerful. Visiting dentists makes me extremely nervous, and I am generally afraid of dental procedures. Dr. Hasan was wonderful and made me feel at ease throughout the process. He was friendly and considerate and clearly explained everything during and after the procedure.
Dr. Hasan at this clinic is the most experienced professional serving his patients with utmost dedication. While I was living in Ajax several years ago, I visited Dr. Hasan along with my wife for all my treatments. Recently , I moved to Mississauga , and I still visit Dr. Hasan for my treatments. It is still worth spending time on congested 401 to get proper attention , and above industry standards in diagnosis and treatments.
Harwood Family Dentistry provided me with an exquisitely unique visit from front desk to my hygienist cleaning ending with my Dentist patient care provided a completely satisfying and comforting experience. Being looked after by their entire staff was like catching up with old familiar friends. I would highly recommend new patients to them and their dental care.
Mon-Thu: 10am - 7pm
Fri: 10am - 3pm
Sat: 8am - 4pm
Sun: Closed