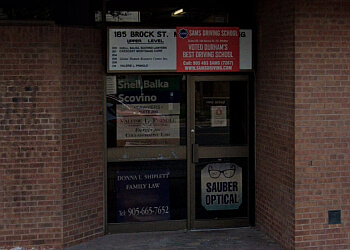 SAMS Driving School has been a dedicated part of the Durham region community for the past two decades. Within its offerings, the school presents an Ontario Ministry of Transportation-approved BDE (Beginner Driver Education) course. At SAMS, the emphasis lies in providing professional and patient driving instructors both in-class and in-car, ensuring a comprehensive learning experience. Their services extend to teaching not only new drivers but also newcomers to Canada and senior citizens the art of driving. SAMS Driving School features air-conditioned vehicles, accompanied by the option of male or female driving instructors. The school prioritizes convenience by offering complimentary pick-up and drop-off services. Furthermore, they present the convenience of early road tests, flexible lesson scheduling (including weekend options), and complimentary progress reports. SAMS Driving School recognizes the diversity of needs and budgets, and thus offers various packages tailored to suit individual preferences.

UNIQUE FACTS:
• Gift Certificates
• Teaching in Simple and Non-Complicated Way
• Professional Instructors.
Specialty:
Beginners Drivers Education Course, 20 Hours of In-Classroom Instruction, 10 Hours Homework, 10 Hours In-Car ( Automatic Transmission), Lane Changes, One-Way Streets, Three-Point Turn, Parking, Defensive Driving, Vehicle Maintenance, Winter, Freeway, Rural, Night, and City Driving, Advanced Training to Prepare for G2 & G Road Tests
$Price:
HOURLY LESSON:
Class G2 $50
Class G $60
USE OF INSTRUCTORS CAR FOR ROAD TEST:
G2 Test $150
G Tests $160
VALUE PACKAGES FOR G2 TEST:
Silver: 2 Lessons + Car for Road Test $220+ HST
Gold: 5 Lessons + Car for Road Test $330+ HST
Platinum: 10 Lessons + Car for Road Test $480+ HST
VALUE PACKAGES FOR G TEST:

Silver: 2 Lessons + Car for Road Test $230+ HST
Gold: 5 Lessons + Car for Road Test $345+ HST
Platinum: 10 Lessons + Car for Road Test $515+ HST

Contact:
Working Hours:
Mon-Fri: 9am - 5pm
Sat & Sun: Closed
TBR® Inspection Report: