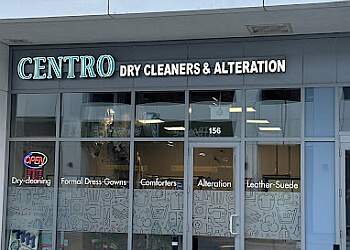 Centro Dry Cleaners, is a family-owned and operated dry cleaning business located in Vaughan, ON. With a team of skilled experts, they provide guidance and support for all your alteration and repair needs. Their aspiration is to establish themselves as the ultimate hub for impeccable garment care, setting unprecedented benchmarks for excellence in the field. Their unwavering dedication to exceptional garment care is a source of pride. Over time, they have dutifully served their esteemed clientele, delivering meticulous cleaning paired with exceptional service. Employing cutting-edge technology and eco-conscious solutions, their adept team ensures that your garments receive the utmost attention and care. The employment of the latest technology in their dry cleaning methodology underscores their commitment to innovation. An array of specialized stain removal services is at hand to effectively combat stubborn stains and restore garments to their original state. In addition to their advanced dry cleaning, wet cleaning, and laundry services, their team of experts offers a service that is both distinctive and unparalleled. UNIQUE FACTS:
• Eco-Friendly Cleaning
• Same Day Cleaning
• Free Pickup and Delivery
• Stain Removal Expertise
• Hassle Free.
Specialty:
Uniforms, Overalls, Stain Removal, Trousers, Shirts, Suits, Pressing, Upholstery, Clothing Alterations, Bedding, Commercial and Hotel Laundry, Furs, Household Items, Duvets, Suede, Leather Cleaning, Coats, Pillows, Skirts, Towels, Sequins, Trimmings, Silk, Sheets, Evening Wear, Beading, Ties, Woolens, Repairs, Curtains, Blazers & Table Linens
Contact:
Working Hours:
Mon-Fri: 8:30am - 6pm
Sat: 9am - 5pm
Sun: Closed
TBR® Inspection Report: