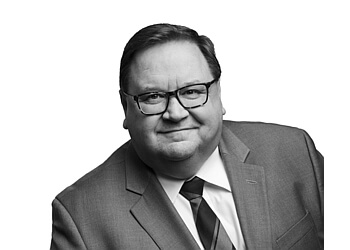 Michael J. Bonomi is a seasoned partner and legal expert associated with Sullivan Mahoney LLP. He earned his LL.B from the University of Western Ontario, laying a solid foundation for his legal career. With a dedicated focus on employment and labor law, Mike's professional prowess has earned him recognition as one of the premier employment lawyers in the region. His approachability, meticulous attention to detail, and dedication contribute to his esteemed reputation. Mike's practice exclusively centers around employment and labor law, where he effectively represents both employers and employees grappling with a wide range of human resource issues. His commitment lies in providing practical and effective solutions to workplace challenges, seeking resolutions that make sense for his clients. Given the nature of his work, Mike is frequently called upon to appear before diverse courts and administrative tribunals. He holds memberships in esteemed legal associations, including the Law Society of Ontario, Ontario Bar Association, and Lincoln County Law Association. Sullivan Mahoney LLP, the firm to which Mike belongs, boasts a cadre of over 30 proficient lawyers. With a history spanning more than 65 years, they have earned a reputation for delivering impeccable service, offering pragmatic legal guidance, and demonstrating unwavering commitment to their clients. The values of trust, respect, dignity, civility, and professionalism underpin their client relationships, forming the bedrock of their approach.

UNIQUE FACTS:
• Mike Is a Frequent Guest Speaker at Conferences and Seminars
• He Has Authored Numerous Papers and Articles Relative to Employment and Labour Law Matters.
Specialty:
Employment Contracts and Hiring, Wrongful and Constructive Dismissal, Termination, Severance, Collective Agreement Negotiation, Workplace Policies, Human Rights, Workplace Harassment, Bullying, Discrimination, Workplace Health and Safety, Performance Management, Workplace Misconduct and Discipline, Reorganization, Restructuring, Workplace Litigation & Investigations

ADDITIONAL PRACTISE AREAS:
Civil Litigation & Advocacy
Contact:
Working Hours:
Mon-Fri: 9am - 5pm
Sat & Sun: Closed
TBR® Inspection Report: