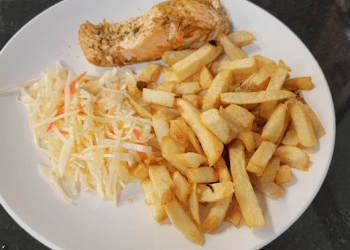 Halibut House Fish & Chips is one of the largest fish and chip restaurants in Markham. The restaurant stands as one of Ontario's most expansive fish and chip dining establishments, offering a diverse array of high-quality choices to elevate your dining experience. With an impressive history spanning over 18 years in the industry, they have amassed a wealth of expertise. Their commitment to sustainability is unwavering, ensuring that all seafood served is responsibly sourced and devoid of chemical additives. To guarantee excellence, only premium cuts of the highest quality seafood make it to their offerings. Setting themselves apart, Halibut House Fish & Chips has perfected a signature light batter that envelops their fish, imparting a burst of flavour. These delights are then skillfully fried in soybean oil, culminating in a delicious and health-conscious alternative with reduced fat content. Even the younger diners are catered to, with a kid-friendly menu that boasts delicious options such as halibut, chicken fingers, grilled cheese, and burgers. Ensuring a wholesome meal, these choices come with chips and a canned soft drink for a balanced experience. What's more, Halibut House Fish & Chips proudly maintains an impressive presence with 39 stores scattered across Canada, a testament to their popularity and the satisfaction they consistently provide to their patrons.

UNIQUE FACTS:
• Casual, Classy Location
• Good For Kids Menu
• Private Lot Parking
• Free Wi-Fi
• TV Facilities.
Specialty:
Menu: Cod and Chips, Calamari, Homemade Fish Chowder, Deep Fried Pickles, Sweet Potato Fries, Garlic Bread, Breaded Clams, Poutine, Coleslaw, Gravy, Mushy Peas, Onion Rings, Black Tiger Shrimp, Breaded Scallops, Chicken Souvlaki, Grilled Shrimp, Grilled Atlantic, Halibut, Haddock, Salmon, Eggs Benedict & Breakfast Poutine
$Price:
Halibut Starts from $14.95
King Cod Fish Starts from $10.95
Haddock Fish Starts from $10.95
Starters Starts from $2
Sandwiches Starts from $5.95
Sides & Salads Starts from $2.95

Contact:
Working Hours:
Mon-Wed: 9am - 8pm
Thu: 9am - 7:30pm
Fri-Sun: 9am - 9pm
TBR® Inspection Report: