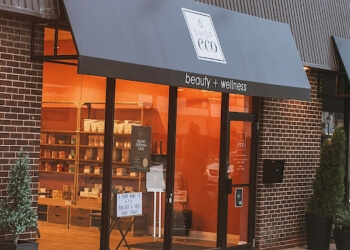 ShopEco is one of the leading gift shops in Windsor. The Shop is an independent beauty brand that celebrates nature's gifts. ShopEco is a woman-owned and operated store located on Lesperance Road. Debra Purdy is the owner of this shop. Their team has transformed ShopEco into a destination for high quality. You can relax, indulge, and feel good about your self-care. ShopEco is an award-Winning shop with a welcoming atmosphere and knowledgeable staff. They're looking forward to seeing you soon. They offer online purchasing. They offer a gift card to their customers.
Specialty:
Gift Sets, Candles, Essential Oils + Diffusers, Accessories, Gift Cards, Greeting Cards + Gift Wrap, Drinks + Drinking Vessels, DIY Kits, Earrings, Complexion, Eyes + Brows, Lips + Cheeks, Tools, Toners + Essences, Serums, Moisturizers, Necklaces, Bracelets, Rings & Hair Accessories
$Price:
Faerhaven Watermelon Artisan Bar Soap (Limited Edition) $9.99
Earth Luxe Cooling Gel Eye Pads $19.99
Kaia Naturals The Takesumi Bright Kojic Acid Brightening Body Bar $24.99
Kaia Naturals The Takesumi Bright Niacinamide Brightening Deodorant + Body Balm $25.99
Kaia Naturals The Takesumi Bright Starter Kit $16.99
Joyous Protein Rich Night Replenish Serum $52.49
Beard Oil $10
Abbott Enamel Box - AirFloat $7.50
Relaxus Avocado Sheet mask $5
Conceal + from $12.75
Abbott Enamel Box - Savon $6.50

Bath In A Box $47.99
Tinted Moisturizer from $15.75

Discount:
Semi-Annual Clearance Sale: Save up to 75% on clearance items - Get 10% off your first purchase when you join their mailing list.
Awards:
ShopEco was named 'Best Little Retail Shop' by BizX Magazine
Contact:
Working Hours:
Mon-Fri: 11am - 7pm
Sat: 10am - 5pm
Sun: Closed
TBR® Inspection Report: