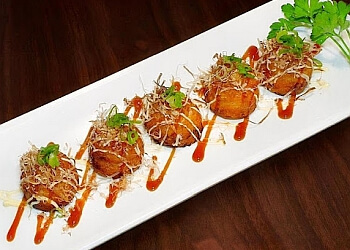 Hanaya Japanese Restaurant exudes a distinct charm within its serene and inviting space, adorned with indoor cherry blossom trees. The interior is a delightful fusion of elegance and tranquility, enhanced by the pervasive cherry blossom theme. The presence of many cozy booths adds to the ambiance, creating an intimate atmosphere that beckons for a memorable dining experience. Hanaya Japanese Restaurant takes pride in presenting an array of fresh and delectable dishes to its valued patrons. A culinary gem within their offerings is the Seared Nigiri Sushi, an embodiment of their signature flame-seared technique, harmoniously combined with their exclusive sauces. This technique ensures an unforgettable taste that lingers on the palate. For those seeking a delightful midday reprieve, their lunch specials stand out as an enticing option. These specials encompass a special roll, a complementary side dish, and a comforting serving of miso soup. Among the tantalizing bites available is the Japanese snack, a delightful creation where batter envelops diced octopus, resulting in a bite-sized explosion of flavor. As a testament to their culinary prowess, their Japanese noodle soup is a composition of carefully curated elements. tender wheat noodles entwined with a rich and flavorful broth, accompanied by an artful arrangement of meat and vegetable toppings. A true highlight of their menu is the lunch bento box, a complete and fulfilling offering that epitomizes value. Moreover, Hanaya Japanese Restaurant extends the gracious touch of complimentary tea, enhancing the overall dining experience. In line with modern convenience, Hanaya Japanese Restaurant accommodates various payment methods, accepting both Debit Cards and Apple Pay. They ensure their establishment is welcoming to all by being wheelchair accessible.

UNIQUE FACTS:
• Dine-In
• Takeout
• Takes Reservations
• Have Television
• Provides Free Wi-Fi
• Full Bar Facility.
Specialty:
MUST TRY DISHES: Donkotsu, Seafood Ramen, Chicken Teriyaki Don, Beef Teriyaki Don, Agedashi Tofu Teriyaki Don, Tuna Don, Salmon Don, Oyako Don, Katsu Don, Chicken Teriyaki, Veggie Teriyaki, Tofu Teriyaki, Salmon Teriyaki, Seafood Teriyaki, Pork Cutlet (Don Katsu), Chicken Cutlet (Chicken Katsu), Galbi (Beef short Ribs), Chicken Yaki Soba, Beef Yaki Soba, Chicken Yaki Udon, Vegetable Yaki Udon, Seafood Yaki Soba & Seafood Yaki Udon
$Price:
Appetizer Starts from $2.50
Gyozas Starts from $8.95
Sunomono and Salad Starts from $5.95
Tempura Starts from $7.95
A La Carte Starts from $17.50
Donburi Starts from $17.50
Udon Starts from $17.50
Stir Fry Noodles Starts from $17.50
Japanese Ramen Starts from $19.95
Lunch and Dinner Bento Starts from $23.95
Combinations Starts from $13.95

Nigiri Sushi Starts from $2.95
Searched Sushi Starts from $4.25
Cone Sushi Starts from $6.50
Sashimi Starts from $15.95
Regular Roll Starts from $5.95
Special Roll Starts from $12.95
Oshi Sushi Starts from $15.95

Discount:
Contact:
Working Hours:
TBR® Inspection Report: