CUMING & GILLESPIE LAWYERS
Cuming & Gillespie Lawyers has established itself as a renowned Serious Personal Injury and Medical Malpractice Law firm. CUMING & GILLESPIE LAWYERS is one of the Three Best Rated® Medical Malpractice Lawyers in Calgary, AB.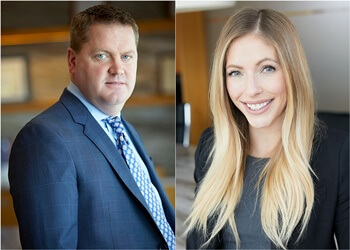 Their exclusive focus lies in representing individuals who have suffered significant personal injury, loss, or death due to the negligence of others. It is important to note that they do not take on cases representing defendants, including medical malpractice cases. Over the years, the firm has provided valuable assistance to thousands of clients affected by the negligence of healthcare professionals such as physicians, surgeons, nurses, and others. Cuming & Gillespie firmly believes in the significance of rehabilitation alongside obtaining fair financial compensation for their clients' losses. With their expertise, they have secured numerous multi-million-dollar settlements for clients involved in motor vehicle accidents, pedestrian accidents, and medical malpractice claims. Possessing a quarter century of experience, their lawyers possess the necessary knowledge, experience, and skills to ensure you receive the compensation you rightly deserve.


Recovered Over $185 Million
Free Consultation
Track Record of Obtaining Significant Compensation
Fair Financial Compensation for Your Loss
Respond to All Inquiries Within 24 Hours.
Anesthesia Malpractice

Birth and Traumatic Brain Injuries

Cerebral Palsy

Failure to Obtain Informed Consent

Medication and Prescription Errors

Missed or Delayed Diagnosis

Surgical Negligence & Nursing Home Negligence

ADDITIONAL PRACTICE AREAS:
Amputations

Recreational

Bicycle

Motor Vehicle and Construction

Industrial Accidents

Insurance Broker Negligence

Car Accident

Orthopaedic

Paraplegia

Quadriplegia

Catastrophic Injury

Slip and Falls

Social Host and Bar Liability

Trucking Accident

Underinsured

Uninsured and Hit and Run Accidents & Wrongful Death
Craig Gillespie and his team, specifically Mike Grassie, were incredible to deal with in an extremely challenging time in my life. Having to face living with a new reality, it was great to be working with such a supportive team like this to keep peace of mind, and a level of comfortability through the whole process, top priority. Thank you to the whole group for the endless hard work a client dedication.
I would highly recommend Maia Tomljanovic to any of my friends and family. Her advocacy, knowledge and expertise made, what would have otherwise been for me an overwhelming situation, surmountable. I was glad to have her in my corner.
Craig is an excellent advocate for his client's interests. Craig has assisted me on two matters where he went above and beyond. Both matters were settled in a timely matter, and he has always been quick to respond to all my questions. Thank you again!
Mon-Fri: 8:30am - 4:30pm
Sat & Sun: Closed
Nearby Medical Malpractice Lawyers in Calgary: