Chris Allard-Mortgage Team
Chris Allard-Mortgage Team stands as a prominent figure among Ottawa's mortgage brokers. Chris Allard-Mortgage Team is one of the Three Best Rated® Mortgage Brokers in Ottawa, ON.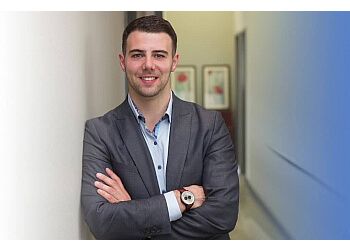 Chris Allard is a prominent authority in the field of Ottawa mortgages, specializing in bad credit, poor credit, and refinanced mortgages. He is constantly staying up-to-date on market trends and Ottawa mortgage rates. Chris Allard is well-known for his personal touch and for helping his clients every step of the way. With an extensive background in mortgage brokerage, he possesses the capability to secure offers from over 50 different financial institutions. Chris remains consistently updated on market trends and mortgage rates specific to Ottawa, ensuring top-notch service for his clients. His approach is characterized by a personal touch, guiding and assisting clients at every stage. Supported by a team of licensed mortgage agents who are deeply passionate about their work, Chris and his team exhibit the requisite training and expertise to cater to diverse borrower mortgage needs. Notably, he was a finalist for the Young Gun of the Year Award at the Canadian Mortgage Awards in both 2019 and 2020, a testament to his recognition as one of the top brokers under 35. Additionally, Chris Allard secured the first position nationwide in the volume-funded category via Invis/Mortgage Intelligence. His excellence is further acknowledged by the Canadian Mortgage Professional magazine, which has included him in the esteemed list of the top 75 mortgage brokers in Canada.


Provides Residential, Commercial, Private and Bad Credit Mortgages
One of Canada's top brokers under the age of 35
Member of the DLC Hall of Fame
Monthly or Bi-Weekly Payments
Transparency
Best Savings
Best Rate.
Residential

Commercial

Private

Bad Credit Mortgages

Mortgage Renewals

First Time Home Buyer

Construction

Investment & Rental Property Mortgages
As someone who works in the real estate industry myself, it truly it a pleasure to work with professionals like Chris and his team. I have been working with the Chris Allard Team since I started in real estate, in fact they were apart of my very first transaction, and let me tell you it was seamless. The team has proper systems in place, communication is always clear & concise and you know you are being taken care of. Best mortgage team in the city, the number of reviews speak for themselves!
Chris Allard and his team did perfect job on my very first home purchase in Canada! Everything went very smooth starting from the very beginning. They recommended me reliable notary, good home insurance company and I got all the answers about mortgage type and rates. Highly recommend! Phil Allard spent ample time discussing the process and the market with us, as well as detailing their business model. At all times did I feel they had our best interests in mind. Would I recommend them to friends and family? Absolutely.
Chris Allard and his team are fantastic! They are thorough, efficient and knowledgeable. We were very comfortable learning the mortgage process from Chris, and will return when the time comes.
DLC Platinum Award in 2015 - DLC Diamond Award in 2016 - CMP Young Guns Award in 2017
Nearby Mortgage Brokers in Ottawa: