Chorus Music Academy Inc.
Chorus Music stands out as the premier music institution in Vaughan. Chorus Music Academy Inc. is one of the Three Best Rated® Music Schools in Vaughan, ON.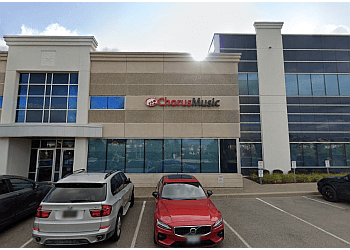 Servicing Vaughan for over 10 years, Chorus boasts an active student base exceeding 400. The academy offers a modern approach to music education still rooted in tradition, and maintains a substantial faculty featuring highly skilled instructors. It offers a comprehensive array of programs from early childhood education to advanced music production. Chorus caters to learners of all ages and skill levels, with a proven track record of preparing students for university admission, art school programs and RCM examinations. As Vaughan's Authorized Yamaha Music Education Centre, they provide exclusive programs taught by certified instructors, along with diverse in-class and online program offerings. Chorus Music is more than a music school, it is a performance facility, recording studio and music community, and has extended its reach to numerous locales, including Bolton, Concord, King City, Kleinburg, Maple, Nobleton and Richmond Hill.


State-of-the-art, acoustically treated facility
Fully equipped, modern recording studio with custom recording booth
In-house Performance Hall with seating for up to 50
Professional artist services with Creative Director Neel Dani
Owner-operated business known for their exceptional service.
CLASSES: Voice

Piano

Guitar

Ukulele

Electric Bass

Flute

Clarinet

Saxophone

Drums

Bongos

Djembe

Kanjira

Didgeridoo

Theory

DJ

Music Production & RCM Exam Preparation

PROFESSIONAL SERVICES:
Music Production

Mixing

Mastering

Songwriting

Record Label
My son Alex took music classes at Chorus for years. The staff and teachers are qualified and extremely professional. They aided my son in obtaining his goal to be accepted into the university of his choice for BA in music. I am happy and pleased to say that he has reached his goal and will be starting university in he Fall2021. Big shout out to Peter and Vanessa the two teaches that got him there. Peter and Vanessa helped Alex with both practical and theory for many years. Thanks again everyone! I highly recommend the school encourage anyone to explore what Chorus Music Academy Inc. has to offer. All the best.
My children have been attending Chorus Music for several years, it has been very rewarding seeing them learn and enjoy doing so. They have a fantastic teacher both in class and online. She has surpassed all expectations going above and beyond. I would highly recommend this music school, such wonderful staff and such a great experience! Thank you Chorus Music
Wonderful owners, teachers, and service. All 3 of my children have been through the Yamaha Music Program and have had much success!
Annual Tutuion:
Half Hour and One Hour Private Lessons Range from $1560 to $3500
Mon-Thu: 3pm - 9pm
Sat: 9am - 2:30pm
Fri & Sun: Closed
Nearby Music Schools in Vaughan: