Kollari Institute of Music
Kollari Institute of Music is one of the leading music schools in Vaughan. Kollari Institute of Music is one of the Three Best Rated® Music Schools in Vaughan, ON.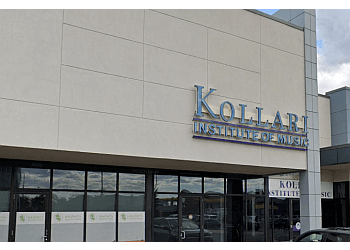 The school offers a distinctive proposition: the chance to receive instruction from educators who not only possess a teaching background but also excel as performers. A central tenet of the school's ethos is the cultivation of essential critical thinking abilities within students. This is complemented by fostering opportunities for cognitive and social growth, all while nurturing the art of musical expression. The faculty is comprised exclusively of exceptionally trained and seasoned instructors. The institute accommodates a diverse age range, providing music lessons for individuals as young as three years old and beyond. Their various learning formats, including private and group lessons, are available to students. Moreover, the reach of the music school extends to communities such as Richmond Hill, Maple, Woodbridge, King City, and Kleinburg.


Kollari offers one-on-one lessons across all instruments
Students of all ages and levels of ability are welcome
State-Of-The-Art facility with An Acoustically Treated and Soundproof-Engineered Design.
CLASSES: Piano

Violin

Viola

Cello

Bass

Voice

Guitar

Ukulele

Percussion

Flute

Saxophone

Clarinet

Oboe

Bassoon

Trumpet

Horn

Trombone

Euphonium

Tuba Early Childhood Education

Kollari's String Orchestra

Choir

Jazz

Classical Chamber Music Ensemble & Theory Classes
When an institute such as Kollari Institute of Music can take an international student who is learning to speak english, has zero knowledge of music, severe stage fright and teach them to play and perform that speaks volumes as to the level of professionalism and knowledge the teachers have. I love the variety of programs that are offered at the school. Kollari Institute of Music has allowed me to fulfill my dreams of singing in a band by teaching me how to sing, read music and play various instruments at my age. If you think you're to old to learn YOU'RE NOT! I'm living proof! Thank you Dr. and Mrs. Kollari for making my dreams come true and for making all us students feel like family. Mari Faraone
We're very happy with Kollari Institute. My children (6 & 7) are happily learning piano and ukulele. I decided to take lessons myself while I wait around during their lessons. We've all been progressing very well. Our teachers are all so wonderful. Mimosa has been so accommodating and helpful in ensuring we all get the best experience possible. If you're looking for a music institute than look no further. This is the one for you!
Kollari is a great school. My kid really enjoys going to the lessons and I can see my kid had improved a lot! The school is large and clean.
Mon-Sat: 8am - 10pm
Sun: 10am - 5pm
Nearby Music Schools in Vaughan: