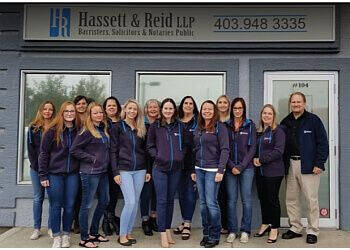 Hassett & Reid LLP, an esteemed law firm in Airdrie, Alberta, has garnered numerous awards for its exceptional legal services. This distinguished firm offers a wide spectrum of legal expertise, encompassing residential real estate, real estate investment law, wills and estates planning, estate administration, corporations and business structures, and business transactions. Additionally, they provide notary services to meet various client needs. Jim Hassett and Kristen Reid are both accomplished lawyers and esteemed firm partners at the helm of Hassett & Reid LLP. Jim Hassett completed his law and business education (MBA, LLB) at the University of Calgary in 1995. With a keen understanding of the critical issues, he excels in devising effective solutions to intricate challenges, handling a broad spectrum of real estate transactions, from the straightforward to the most complex. Kristen Reid obtained his LLB from the University of Alberta in 2008. Hassett & Reid LLP aspires to be your preferred choice for all your personal and legal business needs. Their warm and professional team is dedicated to promptly addressing your inquiries and providing the best possible service.

UNIQUE FACTS:
• Soft Skills
• Experienced Staffs
• Extensive Service.
Specialty:
Notarization Services (Guarantees, Out of Province), Travel Authorizations, Commissioner for Oaths Services, Affidavits and Document Certification, Travel Letters, Passport Application, Share issuing, Corporate Succession Planning, Leasing and rental, Purchase and Sale of Shares, Security Agreements and registrations, Authentication & Legalization
Awards:
Voted Airdrie's Best Law Firm 9 Years in a Row - Airdrie City View Reader's Choice Awards
Contact:
Working Hours:
Mon-Fri: 8:30am - 4:30pm
Sat & Sun: Closed
TBR® Inspection Report: