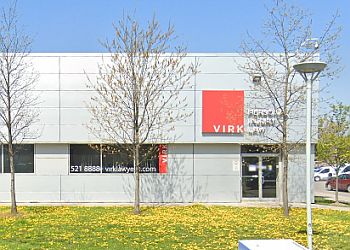 Virk Personal Injury Law been providing Hamilton and the surrounding areas with personal injury law services since 2013. Recognizing the potential intricacies and overwhelming nature of the field, they have honed their focus exclusively on this domain. With unwavering determination, they tirelessly furnish their clients with unparalleled legal guidance and representation throughout the entirety of the process. Their expertise encompasses a wide spectrum of personal injury cases, spanning from car and motorcycle accidents to slips and falls, product liability, and long-term disability claims. Virk Personal Injury Law is dedicated to aiding you in accessing optimal healthcare solutions and enlisting the expertise of highly qualified professionals to construct the most robust case for presentation to the insurance company. They will swiftly establish your confidence through their unwavering commitment, well-informed approach, and diligent provision of personalized legal services. Should you seek to secure the maximum compensation for your injuries, do not hesitate to engage with their personal injury lawyers in Hamilton.

UNIQUE FACTS:
• Free Consultation
• Free Case Review
• Works on A "contingency Fee" Basis
• Extensive Professional and Courtroom Experience
• Multiple Locations Across Canada
• Experienced in Analyzing Complicated Legal Documents.
Specialty:
Car, Trucking, Vehicle, Motorcycle, Fatal, Uninsured Driver, Hit and Run Accidents, Wrongful Death Claims, Drunk Driving Collisions, Dangerous Roadways, Unsafe Premises, Slip and Fall Accidents, Bar and Tavern Liability, Brain Injuries, Spinal Cord Injury and Paralysis, Long-Term Disability Denials, Product Liability, Dog Bite and Animals Attacks, Nursing Home Negligence & Serious Injuries
Contact:
Working Hours:
TBR® Inspection Report: