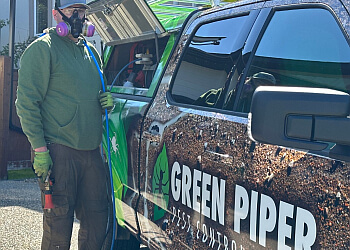 Green Piper Pest Control is an environmentally friendly pest control company in Grande Prairie. Dan Student, an experienced pest control specialist, is this company's owner. Their technicians are dedicated to delivering transparent and ethical pest control services, prioritizing eco-friendly solutions at every turn. They stand firmly behind their work, extending guaranteed services to both residential and commercial clients. With licenses in hand, their technicians employ cutting-edge techniques and tools designed to minimize their environmental footprint. They carefully select chemicals that are as environmentally friendly and responsible as possible, reflecting their commitment to sustainability. They provide tailored pricing plans and strategies for added convenience and flexibility, ensuring their services align with your specific needs. As part of their customer-centric approach, their technicians conduct complimentary inspections for both businesses and homes. To streamline the process, they also offer a straightforward and easy-to-follow method for pest removal.

UNIQUE FACTS:
• Guaranteed Work
• Environmentally Safe
• Effective Services.
Specialty:
Ants: Common, Carpenter, Little Black, Cockroaches, Spiders, Mice, Bed Bugs, Beetles, Spider Mites, Silverfish, Centipedes & Millipedes
Contact:
Working Hours:
Mon-Sat: 8am - 10pm
Sun: Closed
TBR® Inspection Report: