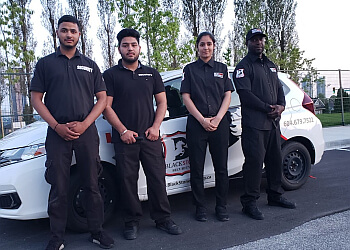 Blackstone Security is a company renowned for its provision of dependable and exceptionally skilled security personnel. The core philosophy at Blackstone revolves around the significance of comprehensive training and meticulous preparation, aimed at equipping their guards to effectively manage diverse emergency scenarios and deliver top-tier customer service. The security staff affiliated with Blackstone undergo rigorous training adhering to the most stringent standards encompassing security, first aid, crowd control, de-escalation techniques, and negotiation proficiency. Blackstone Security stands as a beacon of excellence in furnishing not only highly trained and committed guards but also an array of other security solutions that assure the fulfillment of your security requisites, all backed by a guarantee of satisfaction. A fundamental tenet of Blackstone Security is its unwavering dedication to the safeguarding and preservation of customer property, underscored by its continuous availability of 24-hour customer service. Their expertise extends to the management of surveillance cameras and monitoring services, cementing their position as a comprehensive security partner.

UNIQUE FACTS:
• Trained Staff
• Commitment to Secure
• Exceptional Security Services.
Specialty:
Concierge, Security Guards, Commercial Security Cameras, Mobile Patrols, LPO's, Fire Watch, Static Guard, Monitoring Control Center Services (MCCS) & Alarm Response
Contact:
Working Hours:
TBR® Inspection Report: