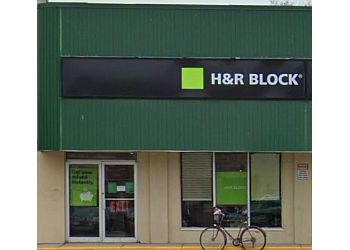 H&R Block Stratford is the foremost provider of personal tax preparation services in Canada. With a robust presence, the company operates in more than 1,300 offices across the country. H&R Block Canada Inc. operates as a subsidiary of H&R Block Inc., a diversified corporation whose various subsidiaries offer a wide range of tax and other financial services and products. The tax professionals at H&R Block are committed to delivering convenient, precise, and cost-effective income tax preparation and filing services in Canada. Furthermore, they have established a stringent set of security policies and controls to ensure the safeguarding and protection of your information. Their team is equipped to handle a broad spectrum of returns, including those for personal and small businesses.

UNIQUE FACTS:
• Up-To-Date Electronic Processing
• Filing Technology
• Trained Tax Experts.
Specialty:
Payroll Services, Tax Return Preparation, Tax Returns for Prior Years, Online Estate Planning, Bookkeeping, Corporate and Personal Taxes, File with a Tax Pro, Tax Software, Second Look Review, Tax Identity Shield, ITIN Services, Audit Representation and Protection, Federal Rates, Non-Resident or Expatriate Returns, Taxes Calculator, Financial Consultant, Taxation Tips, Pay With Refund & Rate Provincial
Contact:
Working Hours:
Tue: 9am - 6pm
Thu: 9am - 3pm
Fri-Mon & Wed: Closed
TBR® Inspection Report: