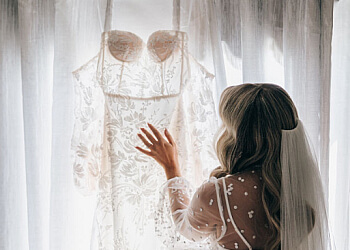 Nova Markina Photography offers an array of professional wedding photography services. At the helm of NovaMarkina Photography is none other than Nova herself, the owner and principal photographer. Known for her boutique approach, Nova curates each couple's journey to craft a personalized experience, resulting in photos that impeccably showcase their monumental day.Proficient in both digital and film photography, Nova expertly captures every fleeting moment of your wedding, preserving them in their full splendor. With an international portfolio of diverse clients, she has brought numerous dreams to life through her artful photographs, infusing each image with heartfelt dedication.Each print emanates love, a testament to Nova's commitment to providing you with timeless treasures that will be cherished for generations. Her team excels at capturing the intimate moments and connections that define a wedding day, fostering an atmosphere that is both enjoyable and laid-back.

UNIQUE FACTS:
• 14 Years in Business
• More than 635 Weddings Photographed
• More than 1600 Portrait Sessions Photographed.
Specialty:
PHOTOGRAPHY: Engagement, Weddings, Families, Engagements & Branding
$Price:
Contact:
Working Hours:
TBR® Inspection Report: