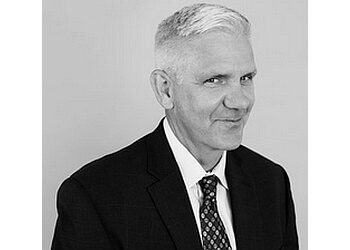 Jeff Coulter is a partner at Fulton & Company LLP. He earned his Doctor of Jurisprudence degree from the University of Houston. He's a member of both the Law Society of Texas and the Law Society of British Columbia. Jeff is known for his work with major lenders, and he understands that being responsive and communicative is crucial when it comes to delivering excellent legal services. His expertise lies in advising financial institutions, bankruptcy trustees, and receivers across British Columbia on matters related to bankruptcy and insolvency law, as well as complex commercial realization and litigation. Jeff has also represented national banks, credit unions, and private lenders in all aspects of residential and commercial realization, sometimes even working with both lenders and receivers to ensure the successful completion of construction projects. Fulton & Company LLP, on the other hand, has been providing a wide range of legal services to clients in British Columbia since 1885. Their team of lawyers and specialists is dedicated to helping individuals and businesses of all sizes. They have offices in both Vancouver and Kamloops, making their legal services easily accessible to clients across the region.

UNIQUE FACTS:
• Their Offices Are Wheelchair Accessible
• They Offer a Personalized and Empathetic Approach.
Specialty:
Shareholders, Personal Property Realization, Bankruptcy, Insolvency, Foreclosures, Commercial Realizations, Business Structure Formation, Incorporations, Provincial Registration and Continuations, Corporate Maintenance, and Reorganizations, Family Trusts, Conveyancing, Franchising & Partnership Disputes

ADDITIONAL PRACTISE AREAS:
Family Law, Personal Injury, Real Estate, Wills, Estates & Estate Disputes
Contact:
Working Hours:
Mon-Fri: 8:30am - 4:30pm
Sat & Sun: Closed
TBR® Inspection Report: