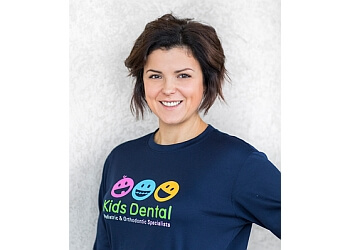 Dr. Edina Heder is a renowned pediatric dentist based in Richmond Hill. After earning her Doctor of Medical Dentistry degree, she assumed the role of Clinical Director of Undergraduate Pediatric Dentistry at the University of Manitoba. Her pursuit of advanced education led her to attain a Pediatric Dentistry Certificate and a Master's Degree in Dentistry from the University of Medicine and Dentistry of New Jersey. Dr. Edina Heder actively participates in various professional organizations to remain updated on the latest advancements in technology and techniques. Her primary mission is to promote children's health and instill lifelong wellness habits. You can find Dr. Edina Heder practicing at Kids Dental Group Markham, specializing in pediatric dentistry and orthodontic braces. Their practice is dedicated to offering specialized dental care for children aged 1 to 18, providing a comprehensive range of pediatric dental services utilizing cutting-edge technology to ensure optimal oral health for you and your family, with a focus on both prevention and correction of oral issues.

UNIQUE FACTS:
• Offer Comprehensive Pediatric Dental Services.
• Memberships: Canadian Academy Of Pediatric Dentistry.
• Ontario Society Of Pediatric Dentistry.
• York Region Dental Society.
• American Academy Of Pediatric Dentistry.
Specialty:
Emergency, Crowns, Examination, Extraction, Special Needs and Sports Dentistry, Sealants, Oral Sedation, Kids and Teens Orthodontics, Invisalign, Brushing and Flossing, Habit Breaking Appliances, Preventive Care, Tooth Coloured Fillings, Braces, Restoration, Check-Up, Itero (Digital scanner), Digital X-Rays & Cleaning
Contact:
Working Hours:
Mon-Wed: 8am - 4:30pm
Thu: 10am - 5:30pm
Fri & Sat: 8am - 1:30pm
Sun: Closed
TBR® Inspection Report: