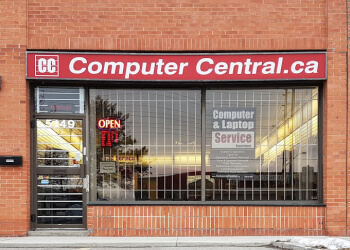 Computer Central Canada has been providing quality repair services for local residents and businesses in Mississauga and surrounding areas for over twenty-seven years. Raymond is the lead technician in the shop. His technicians have extensive knowledge of different computer hardware configurations. Their goal is to provide the best possible service everytime. They specialize in the sale and service of laptops and computers exclusively which enables them to be highly speciallzed and provide the best solutions for their customers. They can detect and repair all your computer problems. Their high-tech testing and repair service centre allows them to diagnose your computer issues quickly and find solutions that fit your budget. They believe in fair and honest pricing. They put in diligent effort to guarantee their prices remain exceptionally competitive. Moreover, they provide a walk-in service without the need for an appointment, along with the convenience of same-day service. Computer Central Canada includes a complimentary evaluation option as well.

UNIQUE FACTS:
• Certified Technicians
• Custom Built PCs
• Very Competitive Prices.
• PC Tuneup
• Full Range of Repair.
Specialty:
Diagnostics and Troubleshooting, Motherboard Failure and Replacement, Hard Drive Failure and Upgrade, No Video Repair, No Power Issue, Battery Replacement, Memory Faults, Windows or OS/X Installation, Virus Removal, Windows Slow, Memory Replacement and Upgrade, Password Removal, Blue Screen, System Crash, Not Booting & Data Backup
Contact:
Working Hours:
Mon-Thu: 10am - 6pm
Fri - Sun: Closed
TBR® Inspection Report: