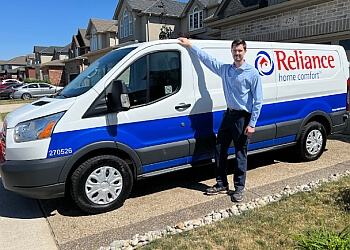 Reliance Heating, Air Conditioning & Plumbing is one of the leading local HVAC companies in the area. The company boasts a team of licensed and professional technicians, installers, and customer service experts. Their offerings encompass a wide range of installation and repair options for both homeowners and businesses. With competitive rates and flexible payment choices, their dependable home comfort advisers collaborate closely with clients to determine the perfect solution for any home size and budget. Their entire team is deeply committed to delivering the finest HVAC services, and they have earned a stellar reputation for providing honest information and advice. In addition to their services, Reliance Heating, Air Conditioning & Plumbing also offers rental and sales options for new AC systems, furnaces, water heaters, and UV air purification systems.

UNIQUE FACTS:
• Live customer support 24/7/365
• Next Day or They Pay $500 Installation
• No Hidden Fees
• Ready to Complete the Repairs on The First Call
• 50+ Years of Experience.
Specialty:
Air Conditioning Repair, Maintenance, Tune Up Plans, Heat Pumps, Furnaces, Water Purification, Softeners, Water-Heaters, Plumbing, Electrical & Muchmore
Contact:
Working Hours:
TBR® Inspection Report: