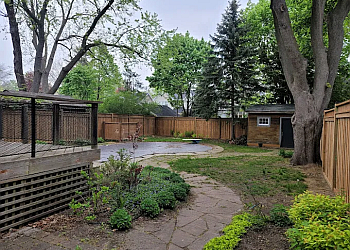 Flawless Fence stands as a renowned fencing contractor situated in Mississauga, Canada. For over a decade, their proficient team has undertaken fencing installation projects not only within Mississauga but also in the adjacent areas. Their distinction lies in their unwavering commitment to delivering work of the highest caliber, a commitment substantiated by an extensive roster of contented clientele. The workforce at Flawless Fence conducts themselves with professionalism upon arrival, readily addressing queries and readily sharing their expertise when relevant. At the core of their ethos is the drive to enhance the value of your home. Catering to a wide spectrum of clients, including both residential and commercial entities in the western GTA region, Flawless Fence extends its services. An additional facet of their service is the provision of complimentary quotes by their seasoned staff, each well-versed in the field. What sets their offerings apart is the utilization of premium materials that boast uncompromising quality, coupled with an assurance of long-lasting durability.

UNIQUE FACTS:
• Over 10 Years
• Screen Fencing and Privacy Screens
• The Classic Picket Fence
• Boundary Fences
• Metal Fencing.
Specialty:
Wood Vinyl, Metal, Classic Picket, Chain Link, Garden, Pool, Ornamental Iron, Neighbour, Backyard, Wrought Iron, Timber Paling, Boundary & Colorbond Fencing

Serving Locations:
Toronto, Oakville, Brampton & Milton
Contact:
Working Hours:
Mon-Fri: 7am - 7pm
Sat: 9am - 7pm
Sun: Closed
TBR® Inspection Report: