Micro Computers Plus Ltd.
Micro Computers Plus Ltd. Micro Computers Plus Ltd. is one of the Three Best Rated® Computer Repair in Grande Prairie, AB.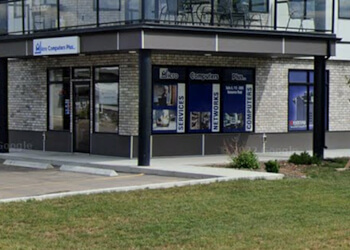 has more than 32 years of experience in this computer repair business. Their store is staffed with knowledgeable professionals who are well-versed in both in-store and on-site services. They specialize in offering comprehensive hardware and software solutions for both home and business users, along with network design and implementation services. Their product range includes a diverse selection of desktop systems, notebooks, workstations, printers, and servers. Micro Computers Plus Ltd. provides a range of services, including in-shop and on-site computer and printer repair. Their team excels in tasks such as component replacement, upgrade assistance, and network connectivity support. Furthermore, they are authorized by OEMs to work on a wide range of hardware and devices, and they maintain direct communication with manufacturers for warranty-related matters. What sets Micro Computers Plus Ltd. apart is their commitment to affordability across all their computer repair services. They prioritize delivering convenient and cost-effective solutions to their customers.


Customer service
Quality computer products.
Virus

Malware Removal

Troubleshooting

Desktop Systems

Workstations

Windows Installation

Upgrade

System Setups

Hardware Repairs

Installation

Computer Upgrades

Notebooks

Software Installation

Printer Maintenance

Repair

Network Support

Printers

Servers & Product
I was very impressed with microcomputer I came in with a problem with my laptop and within 5 minutes they were able to give me an estimate on the cost of the repair. The part was as much as a new laptop so I did not follow through with the repair. I was really happy to understand my options. Very knowledgeable staff.
Such fantastic service. I needed an urgent laptop repair and they had it done same day for me. Absolute tech heroes, highly recommend.
Awesome experience with these guys. Were the only ones in town who knew what a serial cable was AND had multiple options in stock! If you need something specific and computer related in Grande Prairie these are your guys.
Mon-Fri: 8am - 6pm
Sat & Sun: Closed
Nearby Computer Repair in Grande Prairie: