Wefixit & Weprintit
Wefixit & Weprintit stands as the most reputable and professional computer repair establishment. Wefixit & Weprintit is one of the Three Best Rated® Computer Repair in Grande Prairie, AB.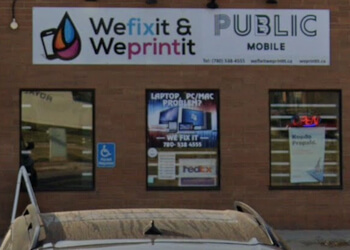 Their team comprises highly skilled and experienced technicians dedicated to delivering top-tier repair services. They are committed to providing superior quality repairs for cell phones, tablets, laptops, and catering to printing requirements, whether for small or large-scale projects. Their hallmark is the provision of exceptional in-store experiences, coupled with affordable pricing and the fastest turnaround times achievable. In addition to their repair services, Wefixit & Weprintit maintains an extensive selection of computer accessories. Their smartphone repair services are completed swiftly, typically within 1-2 hours, and they excel at resolving issues related to overheating and failed battery packs. Wefixit & Weprintit places a strong emphasis on ensuring customer satisfaction while maintaining reasonable pricing. As a testament to their commitment to quality, the shop offers a guarantee for all its repair services.


10+ Skilled Technicians
10000+ Devices Repaired.
Charging Port

Battery

Screen Replacement

Mac

Water Damage Repair Service

Shutting Down

Hard Drive

Camera Lens

I Pad

Complete Damage Control

Technology & Speed Issues
The employee that helped me was super friendly and professional, efficient. Took care of multiple customers and still got my work done in a speedy manner! Really went the extra mile and I left with a smile! Highly recommend this place for everything!
I am very satisfied with their Professionalism and Excellent customer service. I would visit this place again next time.
Very quick and affordable fix. Use quality parts and great workmanship. Good job! Will be going back!
Mon-Fri: 10am - 6pm
Sat: 11am - 5pm
Sun: Closed
Nearby Computer Repair in Grande Prairie: