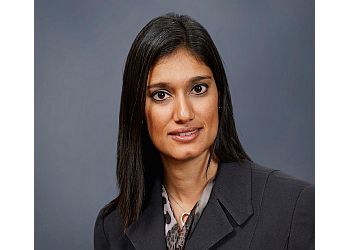 Fareen L. Jamal is a dedicated family attorney, deeply sensitive to separation's intricate emotional complexities. Her unwavering focus on the well-being of children and her pragmatic approach characterizes her practice. Her objective is swift and efficient outcomes, facilitated by her robust negotiation skills and compelling advocacy. These qualities enhance her professional representation both within and beyond the courtroom setting. Fareen Jamal's credentials include accreditation as a family law mediator by the Ontario Association of Family Mediation (OAFM). She was called to the Bar of Ontario in 2004 after completing her LL.B. at the London School of Economics. In 2012, she further honed her expertise with an LL.M. from Osgoode Hall Law School, specializing in family law. Jamal Family Law is a distinguished firm exclusively dedicated to family law practice, with a foundation of integrity, enthusiasm, and exceptional professionalism. Their team collaborates closely with each client, tailoring strategies for optimal outcomes aligned with their circumstances. Armed with extensive courtroom and mediation experience, the firm excels at all levels of legal proceedings. Schedule an appointment with Jamal Family Law to receive expert guidance tailored to your needs.

UNIQUE FACTS:
• With extensive expertise in all court levels and mediation.
• Their collaborative approach adds depth, knowledge, and experience for their clients.
Specialty:
Divorce, Annulments, Child Custody, Access to Children, Parenting Arrangements, Child Support, Special, and Extraordinary Expenses, Spousal Support, Property Division, Trust Claims and Joint Family Venture Claims, Sale of Property, Cohabitation Contracts Pension Division, Marriage Contracts, Grandparents' Rights, Separation & Paternity Agreements
Contact:
Working Hours:
Mon-Fri: 9am - 5pm
Sat & Sun: Closed
TBR® Inspection Report: