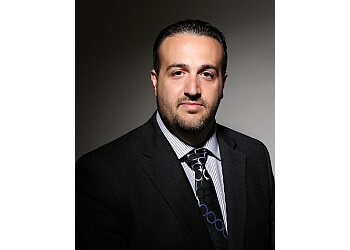 Peter Craniotis is a criminal defence lawyer based in Ontario who earned his bar admission in 2009. Prior to embarking on his legal career, Peter pursued his education at the University of Toronto at Mississauga (UTM), culminating in an Honours Bachelor of Arts degree in 2005. His academic achievements included a place on the Dean's List and induction into the esteemed Golden Key International Honour Society. Peter J. Craniotis, a dedicated barrister & solicitor, continued his legal journey by enrolling in the French Common Law Program at the University of Ottawa post-graduation. His path led him to complete his articles at Gauthier & Associates in Toronto, where he furthered his understanding of criminal law intricacies and complexities. Driven by an abiding interest, he dedicated his professional trajectory to defending individuals facing criminal and drug-related charges. In pursuit of this mission, he established Craniotis Law Office, firmly rooted in the Town of Oakville within the Halton Region. Recognizing the weighty potential consequences of such cases, Craniotis Law Office employs a three-part approach aimed at minimizing or eradicating these impacts. Positioned centrally in Oakville, Peter effectively represents clients across multiple jurisdictions in the Greater Toronto Area and its environs, encompassing Oakville, Burlington, Milton, Mississauga, Brampton, Hamilton, Brantford, Newmarket, St. Catharines, and Toronto.

UNIQUE FACTS:
• Represented Numerous Individuals in The Ontario Court of Justice and The Superior Court of Justice
• Dedication to Defending Your Rights Is Unparalleled
• Free and Confidential Initial Consultation.
Specialty:
Over 80, Drug Charges, Impaired Driving, Drunk and Drive, Driving License Offences, Causing Bodily Harm, Driving-Related, All Drug-Related Offences, Possession, & Assault with a Weapon

ADDITIONAL PRACTICE AREAS:
Real Estate, Transactions, Wills & Estates
Contact:
Working Hours:
Mon-Fri: 9am - 5pm
Sat & Sun: Closed
TBR® Inspection Report: