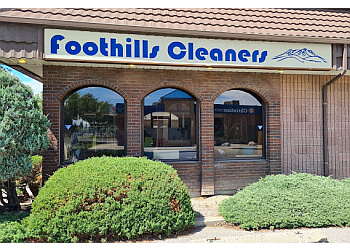 Foothills Cleaners is a renowned family-owned dry-cleaning enterprise situated in Lethbridge, AB. They are cutting-edge dry cleaning machinery, the establishment achieves unparalleled outcomes within the industry. With an adept and amiable customer service team, a skillful and meticulous crew dedicated to cleaning and pressing, as well as a proficient management unit, they collectively possess centuries of experience in dry-cleaning. When it comes to maintaining the impeccable appearance of your shirts, Foothills Cleaners stands as the ultimate choice. Your shirts will retain their crispness, sharpness, flawless cleanliness, and impeccable press. The establishment is equally proficient in caring for leather and suede attire, ensuring top-tier preservation. For wedding gowns, Foothills Cleaners employs specially selected products to delicately cleanse and conserve the garments. The gowns are then stored in acid-free tissue within museum-quality bridal chests. The establishment boasts a professional tailor capable of handling all repair and alteration needs, consistently surpassing expectations. In essence, Foothills Cleaners excels in exceeding your alteration and repair prerequisites.

UNIQUE FACTS:
• 20 years of experience
• Certified Member of the Association of Wedding Gown Specialists
• High quality work
• 100% guarantee
• Free pickup and delivery.
Specialty:
Dry Cleaning, Saree, T-Shirt, Tie, Socks, Winter Wear, Coats, Suits, Flood, Water Damage Restoration, Shirts, Carpets, Pants, Commercial Laundry, Hats, Skirts, Leathers, Teddy Bears, Blinds and Area Rugs, Costumes, Fire, Suedes, Sporting Equipment, Smoke, Floor Mat Services, Window Coverings, Drapes & Household Textiles
Discount:
$10 Off on dry cleaning and laundry - $20 Off for wedding gowns cleaning - 20% Off for residential and commercial cleaning -20% Off for exterior cleaning (Offers only valid for First-Time Customers)
View Coupon
Contact:
Working Hours:
Mon-Fri: 9am - 6pm
Sat: 10am - 3pm
Sun: Closed
TBR® Inspection Report: